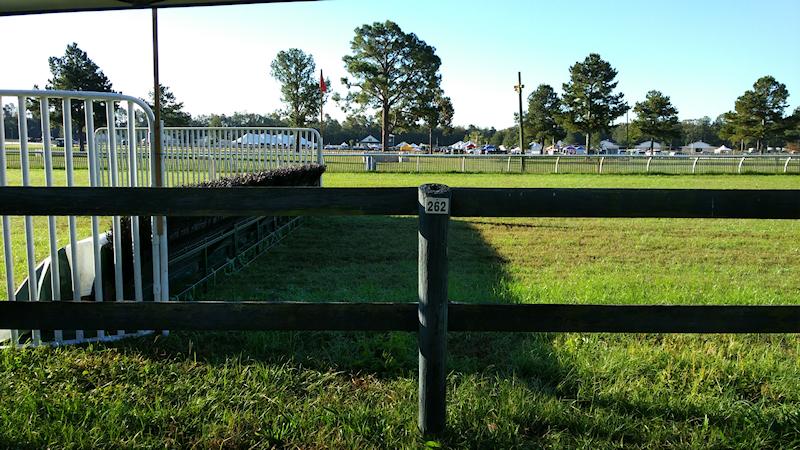 After gifting the Club the use of his spot and tickets for the past two Aiken Spring Steeplechases, this time President Tom gave us the opportunity to attend the Fall Steeplechase. He donated to us the spot for one vehicle with two extra parking passes in case someone didn't want to meet at our house and walk over, plus a dozen tickets to get in the gate.
Six club members claimed the tickets right off, us, Karol & Dennis Mason and Emilie & Kirill Skliar, and maybe because it was sort of last minute, no one else piped up. The six of us that were going started looking for guests to bring because we didn't want Mr. Varallo's largess to go unused. By Friday we thought we had all but one spoken for. But by Saturday we only had one guest use a ticket to get in, a friend of Karol & Dennis's, named Lee. Sigh. Their loss.
On Thursday Donna and I had to run an errand, so we cruised by the field to see if we could eyeball where spot #262 was and were excited to see it was near a jump. It wasn't until we got there Saturday morning to set up that we realized it was right at the jump. As before with previous steeplechases the Bogarduses and Masons arrived practically as the event gates opened to set up. Soon the other spots started to fill up too. As our direct neighbors arrived, we traded introductions and offered up food and drink. They reciprocated to be friendly and because everyone always brings way more than they need to these events.
We had two portable grills (one charcoal, one gas) setup for cooking the hamburgers, hot dogs and chicken & vegetable shish kabobs. There were Fritos and a couple bags of chips with about four different kinds of dip to nibble on. There were crackers, cheese, sliced ham and venison sausage for grazing, with brownies and an Italian raisin bread for your sweet tooth. To drink we had iced tea, soft drinks/mixers, beer, Jack Daniels, Vanilla Crown Royal and a bit of bubbly.
Spot #262 was not only right at the exit of a jump, but as it turned out, in 4 of the 5 races, the horses lined up to start right in front of us. Unlike flat races where the horses are slotted into a starting gate, in steeplechase they parade from the paddock and then line up in reverse start order behind a judge who then walks them in a line towards the rail. There they do a left face maneuver, so when another judge (on foot) waves the red flag, they take off sort of like they just came out of a gate. Because these are naturally skittish thoroughbred race horses it never goes smoothly, yet somehow they always end up with a reasonably straight start.
In between the first and second race we had some special guests arrive to liven up our tent with youth and conversation, Courtney (Lee's daughter), along with her friends Little Courtney, somebody possibly named Bridget and a couple others. We fed them some of our food and we helped ourselves to some of their liquor. They watched the carriage parade with us, then the second race, and just as quickly as they came, they disappeared. Left behind the booze though, so we knew they'd be back.
In between the third and fourth race a fellow MMC member Chip was on his way to somewhere when he noticed the Club sign in front of Dennis's truck, so he stayed long enough to say hello before he too disappeared. In between the fourth and final race Emilie & Kirill headed over into the infield to walk through the shops and take in some of the pageantry that is steeplechase, which Donna and I and the Mason's had already done earlier.
Emilie & Kirill came back after the fifth and final race finished. Not long after, Little Courtney and Bridget popped back in to join us as we all whiled away some time waiting for the crowd of hurry-homes to disperse some before attempting our own exit. Bridget got Dennis to pop the cork on her bottle of sparkling wine and the nine of us toasted another fantastic day at the races in Aiken. We couldn't have asked for better weather or a better spot to watch the races. Thanks Tom!