List your top five favorite Cult Clas­sic movies. We had this dis­cus­sion a few weeks ago over the course of sev­eral after­noon breaks in my cubi­cal. Of the four folks involved we had very few over­laps. A lit­tle of this dif­fer­ence can be attrib­uted to our age dis­par­ity, but when asked for the cri­te­ria used to define cult clas­sic there were lots of vari­a­tion, from a movie that peo­ple dress in char­ac­ter to go see to not hav­ing a firm def­i­n­i­tion, but know­ing one when when you saw one.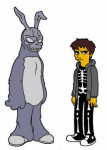 My Five:
1) Rocky Hor­ror Pic­ture Show
2) Don­nie Darko
3) A Clock­work Orange
4) The Harder They Come
5) The Goonies
The Simp­sonized Frank & Don­nie Darko comes from Spring­field Punx.
Started up, went down, still down.
Miata Top Tran­si­tions since 01/01/08: 324