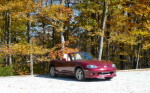 Sat­ur­day was the MMC Leaf Peep­ing Run of which I was the leader. We met at the Cracker Bar­rel over in Augusta. The restau­rant was packed with peo­ple eat­ing break­fast, but only two other cou­ples were mem­bers of the Miata Club, seems the rest of them were just there coin­ci­den­tally. After eat­ing we headed west and north to the upstate of Geor­gia (with a brief foray into South Car­olina) to see the col­or­ful trees. There were hun­dreds, maybe thou­sands of us dri­ving the windy back roads enjoy­ing nature's beauty, but there was just our one car from the Club, seems the rest of them were just there coincidentally.
The weather was absolutely per­fect for leaf peep­ing and the roads were mostly uncrowded. We ended up at Black Rock Moun­tain State Park near Clay­ton, GA where the club has vis­ited sev­eral times before on these excur­sions. Instead of opt­ing for the mega-meal at the Dil­lard House just up the street we drove the 35 miles to Clarkesville (where the rock group the Mon­kees are from) to eat at Zanzo Ital­ian Cafe where we you get the best Ital­ian food this side of, well, Italy. Two words: Baked Ziti.
Some­where in north­ern Geor­gia, the Emperor zoomed past the eighty-three thou­sand mile mark.
We got home a touch more than 12 hours after we left it, tired, wind burned and com­pletely sat­is­fied. We would have gone right to bed, but see­ing as we were going to get an extra hour of sleep, we opted to watch episodes 8, 9 & 10 of Sea­son 2 of Mad Men.
Started up, went down, back up, back down, still down.
Miata Top Tran­si­tions since 10/24/08: 15