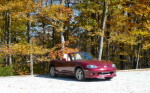 Saturday was the MMC Leaf Peeping Run of which I was the leader. We met at the Cracker Barrel over in Augusta. The restaurant was packed with people eating breakfast, but only two other couples were members of the Miata Club, seems the rest of them were just there coincidentally. After eating we headed west and north to the upstate of Georgia (with a brief foray into South Carolina) to see the colorful trees. There were hundreds, maybe thousands of us driving the windy back roads enjoying nature's beauty, but there was just our one car from the Club, seems the rest of them were just there coincidentally.
The weather was absolutely perfect for leaf peeping and the roads were mostly uncrowded. We ended up at Black Rock Mountain State Park near Clayton, GA where the club has visited several times before on these excursions. Instead of opting for the mega-meal at the Dillard House just up the street we drove the 35 miles to Clarkesville (where the rock group the Monkees are from) to eat at Zanzo Italian Cafe where we you get the best Italian food this side of, well, Italy. Two words: Baked Ziti.
Somewhere in northern Georgia, the Emperor zoomed past the eighty-three thousand mile mark.
We got home a touch more than 12 hours after we left it, tired, wind burned and completely satisfied. We would have gone right to bed, but seeing as we were going to get an extra hour of sleep, we opted to watch episodes 8, 9 & 10 of Season 2 of Mad Men.
Started up, went down, back up, back down, still down.
Miata Top Transitions since 10/24/08: 15