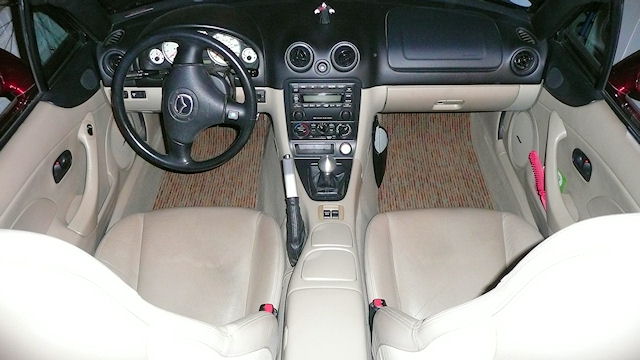 They are building an office addition on the back of the plant and this where my department (Fabrication Engineering) and another (Product Engineering) will be moving into when it is complete. We were supposed to be in the building this month, but some of the HVAC units arrived well behind schedule, so it is looking more like January before it happens.
Yesterday and today they installed the new carpet on the floor. When I saw the color, I thought, "Hmmmm." So this afternoon as the installers were wrapping up I went back and grabbed a couple of 24″ x 24″ squares of the industrial grade carpet. Because they just didn't look big enough I also took a couple of 10″ x 24″ scraps. Good thing I did that because the Miata floor mats are about 18 inches wide and about 28 inches long.
I came home and used some duct tape on the back of the two pieces to hold them together. I then flipped the existing mats over and traced around them with a Sharpie to create the cutting pattern. Using a box cutter and a pair of tin snips I cut out my new free floor mats.
Because I traced around the outside the new mats are a little bit larger than the stock ones so maybe they won't slip around as bad even though they don't have a thousand little nubbies on the bottom. If they do move, my cubicle neighbor suggested getting some male-side Velcro to put on the bottom, that ought to grab a hold of the fuzzy OEM carpet (thanks for the tip Jim.)
I don't even think they will need any binding around the edges. A cross-section of 3/16″ thick carpet reveals the bottom half is some sort of plastic/rubber material with short fibers embedded in it. It'll shed a bit, but not enough to unravel unsightly. If anything, running a match quickly along the edge, would be ll it needs (Jim again.)
Started up, went down, still down.
Miata Top Transitions since 10/24/08: 910