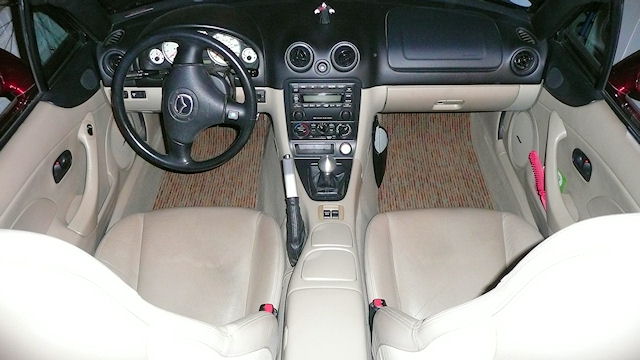 They are build­ing an office addi­tion on the back of the plant and this where my depart­ment (Fab­ri­ca­tion Engi­neer­ing) and another (Prod­uct Engi­neer­ing) will be mov­ing into when it is com­plete. We were sup­posed to be in the build­ing this month, but some of the HVAC units arrived well behind sched­ule, so it is look­ing more like Jan­u­ary before it happens.
Yes­ter­day and today they installed the new car­pet on the floor. When I saw the color, I thought, "Hmmmm." So this after­noon as the installers were wrap­ping up I went back and grabbed a cou­ple of 24″ x 24″ squares of the indus­trial grade car­pet. Because they just didn't look big enough I also took a cou­ple of 10″ x 24″ scraps. Good thing I did that because the Miata floor mats are about 18 inches wide and about 28 inches long.
I came home and used some duct tape on the back of the two pieces to hold them together. I then flipped the exist­ing mats over and traced around them with a Sharpie to cre­ate the cut­ting pat­tern. Using a box cut­ter and a pair of tin snips I cut out my new free floor mats.
Because I traced around the out­side the new mats are a lit­tle bit larger than the stock ones so maybe they won't slip around as bad even though they don't have a thou­sand lit­tle nub­bies on the bot­tom. If they do move, my cubi­cle neigh­bor sug­gested get­ting some male-side Vel­cro to put on the bot­tom, that ought to grab a hold of the fuzzy OEM car­pet (thanks for the tip Jim.)
I don't even think they will need any bind­ing around the edges. A cross-section of 3/16″ thick car­pet reveals the bot­tom half is some sort of plastic/rubber mate­r­ial with short fibers embed­ded in it. It'll shed a bit, but not enough to unravel unsightly. If any­thing, run­ning a match quickly along the edge, would be ll it needs (Jim again.)
Started up, went down, still down.
Miata Top Tran­si­tions since 10/24/08: 910