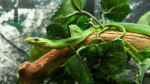 This morn­ing we did get to the WNC Nature Cen­ter and it was inter­est­ing des­ti­na­tion. I'm sure they are doing good work, but it came off as more of a minor league zoo and is mostly aimed at kids. We left Edward Scis­sorhands (Allen) at the town home so he could prune, trim and shape the land­scap­ing, while Diane, Donna and I took a pleas­ant drive north to Asheville and then to the east side of town via the Blueridge Parkway.
There were three caches within a 1/4 mile of the nature cen­ter, so after we had our fill of wild ani­mals in cap­tiv­ity, we went out look­ing for cap­tive con­tain­ers in the wild. The first one was spot­ted by Donna as it hov­ered right over my head in a tree I was stand­ing near. The sec­ond one we only gave a half hearted attempt at because it was sup­posed to be at the edge of a small stream in a small park, but to get to it you had to fight through a large patch of plants with large thorns on them. The third was near a soc­cer field in the same park, but there was a broom less game of Quid­ditch tak­ing place, so we didn't even leave the car.
Lunch was back in Hen­der­son­ville at West First wood fired pizza. After eat­ing lunch we went back to the Stricker Moun­tain Home and packed our bags. We were vacat­ing the place so Allen's sis­ter and her hus­band from Char­lotte could spend Sat­ur­day night in the guest room.
We are back home and while it was fun to see their new place and visit with my sis­ter and Allen, there is no place like home.
Started down, went up, still up.
Miata Top Tran­si­tions since 10/24/08: 315