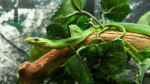 This morning we did get to the WNC Nature Center and it was interesting destination. I'm sure they are doing good work, but it came off as more of a minor league zoo and is mostly aimed at kids. We left Edward Scissorhands (Allen) at the town home so he could prune, trim and shape the landscaping, while Diane, Donna and I took a pleasant drive north to Asheville and then to the east side of town via the Blueridge Parkway.
There were three caches within a 1/4 mile of the nature center, so after we had our fill of wild animals in captivity, we went out looking for captive containers in the wild. The first one was spotted by Donna as it hovered right over my head in a tree I was standing near. The second one we only gave a half hearted attempt at because it was supposed to be at the edge of a small stream in a small park, but to get to it you had to fight through a large patch of plants with large thorns on them. The third was near a soccer field in the same park, but there was a broom less game of Quidditch taking place, so we didn't even leave the car.
Lunch was back in Hendersonville at West First wood fired pizza. After eating lunch we went back to the Stricker Mountain Home and packed our bags. We were vacating the place so Allen's sister and her husband from Charlotte could spend Saturday night in the guest room.
We are back home and while it was fun to see their new place and visit with my sister and Allen, there is no place like home.
Started down, went up, still up.
Miata Top Transitions since 10/24/08: 315