It is sort of a Miata nut's ritual to name your car. The purists will tell you to drive it for a while and the car will tell you its name. Others will pick out a cute one and other will name it based on the color. Some will pick one to match what is available from the local DMV on a personalized plate. The first two Miatas we owned didn't get names, they were just "The Miata" or Donna would call it "Your Car" when they were bad.
This car did get a name, sort of. Back last March I nicknamed it The Emperor because since the beginning with it we had treated it differently because of the color combo and it's quieter, smoother ride, treated it a little like royalty. We don't use it every time we refer to the car like if you had a child or a pet, mostly it gets tossed in here on the blog once and a while.
Ever since my Japanese front license plate idea failed so miserably I have been looking for something else that might be just a little unusual, but tasteful. I have found something I'd like to try, but don't think it will make it through committee. On the previous Miata I cut out a Miata script sticker from vinyl and placed one on each side of the car on the lower portion of the panel just in front of the doors. On this one I'd like to put the Japanese kanji characters for Emperor in that spot. Maybe in black...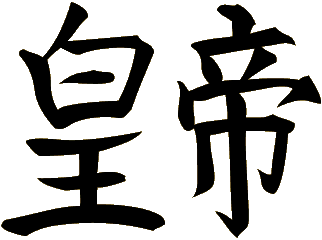 Started up, went down, back up, down again, up again, down once more, still down.
Miata Top Transitions since 01/01/05: 253