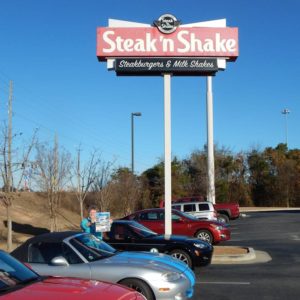 Saturday morning was the first Masters Miata Club Breakfast of the year at the traditional spot, the Steak & Shake in Augusta. Donna and I went with them the first time in 2013 and her eggs were served cold. This, on top of a couple slow or sloppy services at past visits to this franchise, made her swear off ever going the January MMC breakfast again.
My meal was fine back in 2013 and I was feeling bad about not going to a club event in a while, so I convinced Donna to go this year. Well, you can guess what happened, cold eggs. She ordered the bacon, egg & cheese biscuit, but asked them to leave off the cheese. Well, you guessed it, there was cheese on there and that is how she knew her eggs were cold, the slice of cheese was showing no signs of melting what so ever. You can now bet that if the only restaurants left on the face of the planet are Steak & Shakes, Donna will learn to catch wild animals with her bare hands or starve to death before going into one. The sign on the pole outside of our dining spot was the best part of breakfast.
I think the tradition for the Club is over as well because Donna's wasn't the only one who got cold food. My hash browns were cold, as were the ones served the wife of the couple who instigated the Steak & Shake breakfasts. As we were breaking up, I heard her say to her husband, "Maybe we should start going across the street to the Cracker Barrel."
When we started the morning, the was top up because it was cold and we really weren't thinking Motoring Challenge, so we didn't bring the clue sheet. Not knowing just what to look for, except for the "Signs of Winter", I choose a route to breakfast along a very commercial road hoping to catch a Winter Sale sign. No luck.
When talking about this year's challenge over breakfast when asked what some of the challenges were, we came up a couple off the top of our memory, Roller Derby Rink was one and another was a Sign that Rhymes. Turns out that Augusta has a Roller Derby team and they practice at a rink over on Washington Road which was between where we were and home. A stop was planned to see if they had a sign outside the skating rink. No luck there either, so I started to drive off when Donna said, "No. Even though no roller derby, we still need a plain old roller skating rink." A few miles from home we pulled into a strip shopping place near Walmart and found my Winter Sale sign at a The Shoe Dept store. So we ended up with a three point day even though we had zero expectations.
Roller Rink: Acting on a tip that the Augusta Soul City Sirens practiced at this rink we stopped in hoping to see some outside indication of it, Nope, still worth one point anyway. (1/20/18)
Signs of Winter 02 – Big Winter Sale: After trolling a large section of Augusta's shopping areas looking for a Winter Sale sign and failing we found this one a few miles from home. (1/20/18)