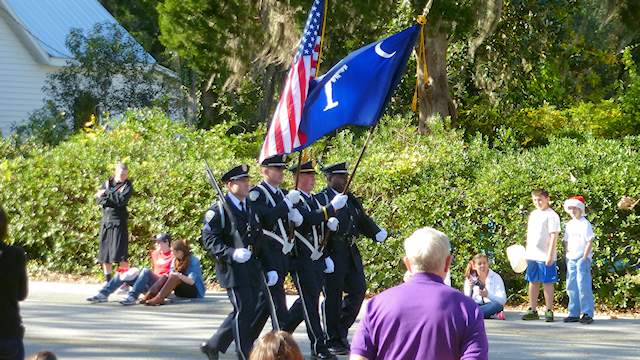 We spent the weekend on HHI and instead of roaming the island we crossed the bridge back to the mainland for breakfast. Our destination was the world famous Squat-N-Gobble in Bluffton. We figured we'd eat breakfast and do a little geocaching around town, there were probably about a dozen within walking distance, and then head back to HHI.
Donna and I actually ate at this restaurant once before – 21 years ago. We were in Savannah for a Miata gathering and had brought our bicycles to go for a Saturday morning ride with the Coastal Bicycle Touring Club of Savannah. The Squat-N-Gobble was the destination for lunch and then ride back.
The place hadn't changed much. It seemed like they bumped it out enough to add two more tables, but we couldn't be positive. When we pulled into the parking lot I notice a town police car across the street and a city working was piling barricade parts on a telephone pole nearby. Donna asked our server if today was the town's Christmas Parade and the answer was, "Yes." "It starts at 11, but they will be shutting the streets down starting at nine." She told us to park in the Dollar General lot next door as the parade route passed right down the street between them, that way if we wanted to get out of town beforehand we could.
Donna and I thought it might be fun to watch their parade, so we ate and headed out touring town and geocaching away. We found 7 in a row and when we DNF'd number eight we called it quits. It was 10:30 anyway, so it was time to head back to find a viewing spot. We dropped our equipment off at the car, grabbed a couple of cold soft drinks and wandered into the fray. For such a small town they sure attracted a large crowd for the parade.
Turns out thinking it might be fun and it actually being fun were not too similar. We watched about 15 minutes before making our way back to the Dollar General parking lot and heading out of town and back to the condo.