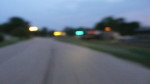 We rode the tan­dem to work today because it was the first day this week that the after­noon rain chance was less than 50%. I mounted the cam­era on the Pho­to­jojo Bike­Cam and off we went.
It was still dark when we started, so the first cou­ple of shots were noth­ing more than a lot of dark with a vague yel­low head­light "shadow" in the mid­dle of the frame. The ones at the fin­ish were lit well enough, but unin­ter­est­ing. The best of the bunch, at least I think so, was the photo above from the mid­dle of the jour­ney where was just enough light to tell it is morn­ing, but not enough to set a fast shut­ter speed.
Kind of an impres­sion­ist view of our commute.
Started down, went up, still up.
Miata Top Tran­si­tions since 01/01/08: 275