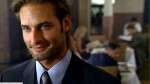 Show eight and that fin­ishes up the sec­ond DVD. This one was about Say­wer mostly, both on and off island. And after sev­eral shows that included scenes where the attrac­tive female cast mem­bers showed some skin (as much as you can get away with on net­work TV), this episode fea­tured the ex model Josh Hol­loway look­ing good in a suit and totally out of it.
Octo­ber is Breast Can­cer Aware­ness Month and today's Augusta Chron­i­cle was printed on pink paper. I thought maybe I'd get in on the fun too and changed the back­ground to pink for the next 31 days. Ladies, get a mam­mo­gram, it may be uncom­fort­able (OK, maybe even painful), but early detec­tion can lit­er­ally save your life.
The top on the car didn't tran­si­tion today because it spent it in the garage.
Started down, still down.
Miata Top Tran­si­tions since 01/01/08: 372