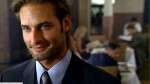 Show eight and that finishes up the second DVD. This one was about Saywer mostly, both on and off island. And after several shows that included scenes where the attractive female cast members showed some skin (as much as you can get away with on network TV), this episode featured the ex model Josh Holloway looking good in a suit and totally out of it.
October is Breast Cancer Awareness Month and today's Augusta Chronicle was printed on pink paper. I thought maybe I'd get in on the fun too and changed the background to pink for the next 31 days. Ladies, get a mammogram, it may be uncomfortable (OK, maybe even painful), but early detection can literally save your life.
The top on the car didn't transition today because it spent it in the garage.
Started down, still down.
Miata Top Transitions since 01/01/08: 372