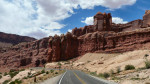 1536 miles from home.
Today's high­light was Arches National Park and we could only man­age to do about a third of it before the sun, wind, alti­tude and shear beauty did us in. You need at least 2 days to do this place jus­tice. I'm no longer upset that we didn't get to Mon­u­ment Val­ley, Arches puts it to shame.
Four of five in geo­caching today.