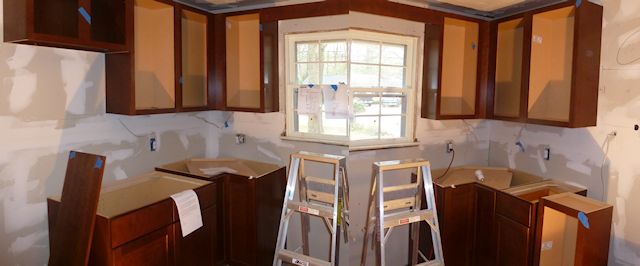 Twenty four days after the first upper cab­i­net was installed and then taken down, we finally had more put up. Hope­fully for good this time. They got two walls of uppers and part of another in today. Tomorrow's goal is to fin­ish the 3rd wall, do the crown mold­ing on those three and start work on the back/refrigerator wall.
The Miata has now been reg­u­lated to strictly a week­end car. We took the cover off on Fri­day night for Saturday's MMC event and put the cover back on Sun­day night. We were going to leave it off and drive it to work for the early part of the week, but then the fore­cast changed, so we decided to let it stay snug­gled up for the sup­pos­edly wet week ahead.
There were a few new caches in the area that we went out and did yes­ter­day. A cou­ple were mystery/puzzle caches that involved some­thing called a Jef­fer­son Disk that at first glance appeared to be com­plex just for the sake of com­plex­ity, but in the end turned out to be the most fun we've had geo­caching in a while.
Those caches involved a bit of bushwack­ing and I of course was in shorts, so I came out of the woods with a few thorn stabs drip­ping blood. A walk off the trail here may be mildly dan­ger­ous, but com­pared to Texas it is lit­er­ally a walk in the park. Every plant in the west Texas dessert is out to kill you. Not just the cac­tus either, if you take a closer look at any plant out there or make the mis­take of brush­ing up against one, you real­ize quickly that heavy denim pants are the only real option for attire blood­less geocaching.