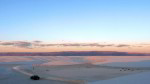 While on vaca­tion I used the credit card for every­thing, but because I am so used to using the debit card, I moved it to a slot of the wal­let that was out of sight and put the CC up front. The only time the debit card was used was to take out cash every other day or so. The cash was for drinks, snacks, trin­kets and lunch if it was cheap enough.
As we were leav­ing Cortez, CO towards the end of the vaca­tion we filled up with gas and then went inside to grab some cash at the ATM. I swiped the card, punched in my PIN and the machine whirred for a while and spit out a receipt. No cash though.
I called out to the woman behind the counter, "Is this thing out of order? I didn't get any cash." She said that they hadn't had any com­plaints. Like ever even, it always works. She said the store wasn't respon­si­ble for the machine, but she walked over with her cord­less phone and asked if there was a phone num­ber on it. I read her the 1–800 num­ber and she dialed it.
About then I took a good look at my receipt:
Requested Amount: $60.00
Dis­pensed Amount: $0.00
Invalid PIN
I told her, "Go ahead and hang up and I apol­o­gize, it was oper­a­tor error." I had swiped the credit card and typed in the debit card PIN. DOH!
Started down, still down.
Miata Top Tran­si­tions since 10/24/08: 180