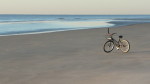 One more walk on the beach before load­ing up the car and we were on the road to Aiken by 8:00 AM. We like to get home so we can eat lunch at the house, plus we need the rest of the after­noon to gro­cery shop for the com­ing week and do the laun­dry with­out feel­ing rushed.
We also had time to watch a movie, rake leaves (front yard only) and I washed/vacuumed the sea salt/beach sand off/out of the Emperor.
Now I just have to tweak and re size the pho­tos and edit the text for the condo web page, then type up the MMC meet­ing min­utes from Thurs­day — tomorrow.
Started up, went down, back up, still up.
Miata Top Tran­si­tions since 10/24/08: 26