A little more than 24 hours after telling Dr. ENT he fixed me, I started with a headache and then it turned into a slight buzzing in the left ear, finally moving on to that annoying sort of low frequency muffling thing again. The only explanation I have is that I was slowly clearing the steroids from my system and there was just enough left to hold the inflammation at bay on Wednesday. By Thursday night the levels had decreased to the point where the symptoms reappeared.
The Dr. had told me that if this did reappear that the next step was an MRI to see if I had a callous on the auditory nerve. If in fact that is what it is, they can treat it with something called a Gamma Knife. An all I thought of when they said that was: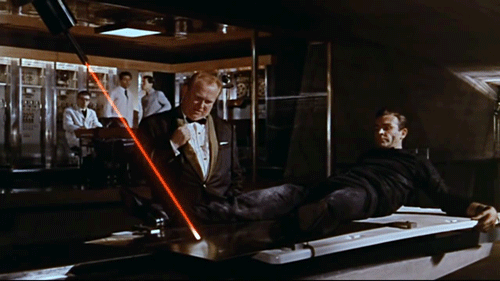 So this morning I called Dr. ENT's office up and said, "It's baaack." After some internal consultation over on their end, the Dr called in another round of my old pals the steroids because I can't get an MRI until the week after next (we're going on our yearly visit to see the Space Needle.) About 11:30 AM I got a text from the Kroger and it said, "Rx# xxx0151 is on order and will be ready for pickup at 9:22 PM."
Fast forward to just a few minutes ago, I picked up the phone to call the pharmacy to see if it was ready and that is when I noticed the date, 07-03-17, hey, wait a minute, that's Monday… The pharmacist at Kroger suggested that I try calling around to see if anyone locally had it and if not I could call ahead to where we are going and see if they can have it ready for when I got there. Several calls later I think I found a hook-up at the 24-Hour CVS over in Augusta near all the hospitals. If they call back pretty soon we may make the drive over tonight.
Oh, boy, another 2 weeks of 800 word blog rambling posts. Lucky you.