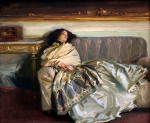 The Emperor got to laze around the garage today as Donna and I took advan­tage of the nice weather and the reduced traf­fic of a no-school day to ride the tan­dem into work. This was the first time in a while that we have rid­den on just two days rest and my sit bones were a lit­tle ten­der when we started out this morn­ing, but I for­got all about them by the end of mile one.
Speak­ing of sore, I am going to have to give up rais­ing the Miata's top while seated in the dri­vers seat for a time. Mon­day morn­ing when putting the top up for the cold drive to work I strained some­thing in my right shoul­der and it still hurts a bit when rais­ing it up over my head.
I am one of the lucky ones because I sit with the seat all the way back and my arm length was just right for hoist­ing the roof up with lit­tle effort. Both shorter and taller dri­vers didn't line up well for doing the over the shoul­der flip up rou­tine. The folks with roll bars or style bars were usu­ally out of luck doing that pro­ce­dure too. All and all, a lot of Miata own­ers had to raise the top while stand­ing out­side the car. Hope­fully after a cou­ple weeks of rest I will be able to return to my pre­vi­ous ways.
Started down, still down.
Miata Top Tran­si­tions since 10/24/08: 904