or ENT Update
I kept my Ear, Nose & Throat appointment last week. Because I was complaining of the hearing diminishing in my left ear, the first thing they wanted was a hearing test. The Audiologist takes a peek inside the left, goes, "Hmmm." Takes look in the right and goes, "I'm going to send you back to the doctor, you've got some wax build-up in that needs to come out.
I go back down the hall and wait again for DR. Ent to come back. When he returns he looks and says you have no issue in the right ear? "Well, I think it is OK, but maybe that is because the left is so wacky." He goes, "All right hold still, there is going to be a little tug." So he puts one hand on the side of the my head to steady me, with another hand he pushes some sort of reverse spreading forceps and with his third hand he reaches in with the pliers and wiggles and wiggle and yanks. "Wow, look at that," as he shows it to me. My first thought was, "That looks like a giant bacon bit." Guess I won't be eating salad for lunch today," he retorts.
I go back down the hall and wait on the bench for the hearing test. Now, a local hospital comes out to the the valve store every year to test the hearing of everyone works in the machining areas to keep track if anyone is going deaf and evaluate what sort of protection they should be using. So I'm used to the testing process. Sit in a little room with a headphones on, press a button every time you still hear the sound. I get in the booth, I get the headphones. I don't get a button and I don't see one hanging anywhere. I don't ask (would she hear me I'm in a soundproof booth?) I'm just gonna roll with it. Dummy, she'd have heard me, if they can pipe in sound, they can pipe it out, er, ever hear of a microphone Brian?
Turns out you answer yes every time you hear the tone. First one ear, up in tone and down in tone in diminishing volume. "Yes, Yes, Yes, Yes, Yes." After a while I get bored and mix it up, "Yeah, Yesss, YEss, yeSS, Yeaah.." Then bored again and just go back the plain old yeses. There were a couple of places where I quit saying yes so frequently, so I knew there were going to be points of loss. Didn't stop with the tones either, next up is repeating words back at my tester. First some 2-word phrases: Swimming pool – ironing board – step sister – left field. Then we toss some one worders back at each other through the wall: – ladder – drive – center – phrase – carrot.
Back down the hall to wait on the doctor again. He shows me my little chart. The right ear was pretty good until 12kHZ then dropped off, the left had a small drop at the lowest point, hovered OK, and plummeted at i12kHz. Diagnosis, probable Inflammatory Audio Nerve. The nerve runs through a bony canal from the the ear to the brain, and when it gets swoll' up (as we say in the south) the nerve presses the bone walls and rubs on there and gets damaged. If caught in the first couple of weeks, they prescribe steroids to reduce the swelling and hopefully things return to as before.
I'm about halfway through a 10-day diminishing dose of Dex-something-or-other and I think I'm doing pretty good. the muddiness is gone and it seems like I'm hearing about like I was. The thing with the steroids is they kind of build up, the first few days on the high doses they didn't bother me much, but today they kicked in, I was wired all day at work. And as you can tell from the length of this missive I'm still flying along.
Because of the hearing test at work and now a real doctor one I wanted to mash them up and see what the numbers were like compared to last October and now. Probably should have waited until now to try because the steroids might have helped. It took me a couple hours of monkeying with excel over the weekend to come up with the following, but I'm not too sure it is clear enough to convey just anything but colorful stalagmites.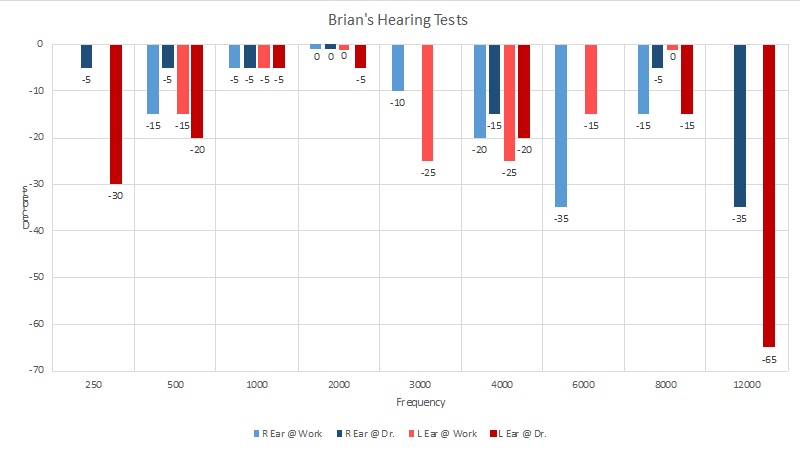 The two tests don't test all the same frequencies. Four color bars is where they coincide, if you see just two hangers that is only one test. The doctor's test did the two extremes and work one tested more of the middle frequencies. Blue is right ear, red is the left. I go back on the 29th, so maybe I'll be able to compare apples to apples then.
Try and contain your excitement.