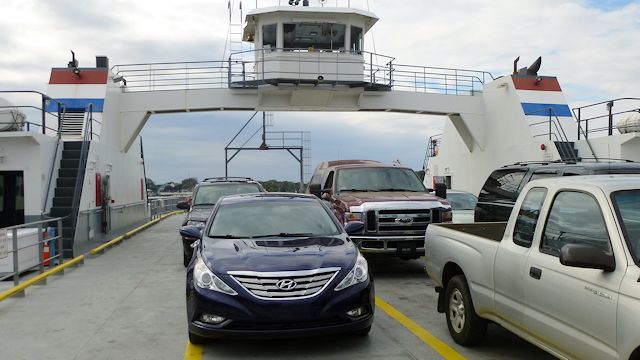 As soon as we got into Florida we took the sec­ond exit off I-95 and got on A1A head­ing east towards the ocean where we had a pic­nic lunch on the beach in the city of Fer­nan­d­ina Beach. Because we were not in any hurry we just stayed right on A1A all the way to Day­tona Beach Shores where we are spend­ing the night over look­ing the Atlantic Ocean from the sixth floor of the Hol­i­day Inn Express (mmm, cin­na­mon buns.)
In the early part of the trip along the coast we get a very short (0.9 mile) ferry ride across the St Johns River between Fort George Island and May­port Vil­lage. It departs every 30 min­utes on the 1/4 & 3/4 hour and costs a whop­ping six bucks. We arrived, pulling up behind 2 wait­ing cars, with 6 min­utes to sail­ing, talk about great timing.
Just north of Day­tona Beach the Pur­ple Whale passed the 29,000 mile mark.