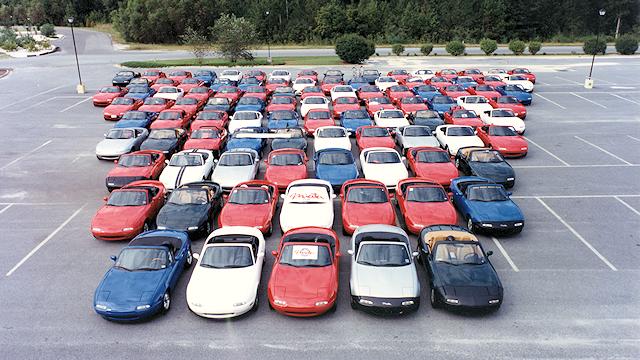 In yesterday's post I men­tioned that you could run on the track both Fri­day and Sat­ur­day. I only showed you Friday's results. That is because there were no Sat­ur­day results for me.
Back in 1991 the Miata wasn't the cen­ter of our uni­verse, that didn't hap­pen for a few more years. We were still into bicy­cling pretty big and the Miata was just a really sporty means to trans­port our bikes. So on Sat­ur­day morn­ing, instead of dri­ving around Roe­bling Road Race­way, Donna and I met up with the Coastal Bicy­cle Tour­ing Club and rode 50 miles with a half dozen or so folks. We met at a Park N Ride lot off I-95 north­west of Savan­nah and rode to Bluffton to eat lunch at the famous Squat & Gob­ble, then rid­ing back along the same route.
When the 1991 Miata National Event was through on Sun­day morn­ing the last thing we did was drive to a closed shop­ping cen­ter where a pro­fes­sional pho­tog­ra­pher got up on the roof and took a group por­trait. I don't think every car that was at the event made the trip to get pho­tographed, but a vast major­ity did. I count 100 cars in the pic­ture above. The first row con­sists of one car of each color the Miata was avail­able in then (they had just added sil­ver and British Rac­ing Green in 1991.) We got to the photo spot fairly early, but they took one look at our car and told us we would have to wait until every­one else arrived before we would be lined up. They didn't want us to spoil the Miata aesthetic.
Our crime was a bike rack on the back of the car with two bicy­cles stick­ing up. Click on the top photo and it will enlarge, where if you look at the last row where the round look­ing tree is, there is a gap because no one wanted to park right behind our blue car…