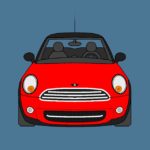 The Mini already has a name, Ladybug. First because of the coloring, but after the deal was done and we went to drive it off the lot there was a ladybug sitting on the driver's outside rear view mirror. Tonight, as if to cement the name, when I went out to pull the Bob Richards sticker off the back and wash the windows better than Nissan of Augusta's "detailer" did, there was another ladybug walking on the roof.
This car, for now, will be Donna's daily driver as it replaces the departed Sonata. I am now slightly jealous about her getting the Mini, not because I like driving it better than the Miata, but because it has the lowest mileage of any vehicle in our fleet and I love a new car. But because I asked nice, she is going to let me take the mini to work tomorrow to show all my friends. I will have to back the Miata out of the garage for her to use tomorrow, she will risk driving it in, but just won't back it out of the garage.
The post title, Coccinellidae, is the ladybug's scientific family name and as it turns out it is not really even a true bug, it is a beetle, so Donna ended up getting a beetle anyway, just one from BMW not VW.
I spent lunch at work and another half hour at home creating the above avatar for the Mini like I've done for our past vehicles for use in online forums and as the avatar for Fuelly. To the right the Sonata is gone and the Mini has joined the Miata in the sidebar. Right now it shows zeroes for the Ladybug as we have yet to fill it up because they topped off the tank before giving us the keys. It will be the second fill up before data gets entered because I don't know if the trip odo was reset when the dealer gassed it up.