Our go-to Saturday breakfast used to be at Dunkin Donuts for a couple of reasons, the coffee and the Wall Street Journal. But two things happened that caused us to fall out of love with it. One was the purchase of of a Keurig coffee maker and the other was they stopped carrying the WSJ. The weekday Journal was chock full of news (limited appeal) and investment info (well above my comprehension), but the Saturday paper had all kinds of lifesytle articles which held interest with both of us. My favorite bit was Dan Neil's car reviews. I've pretty much forgotten all about them until this week's column popped up in my Google newsfeed under the Miata heading. I've reprinted it below.
---
Why the new grown-up Miata belongs in the car Hall of Fame—no if, ands, or buttresses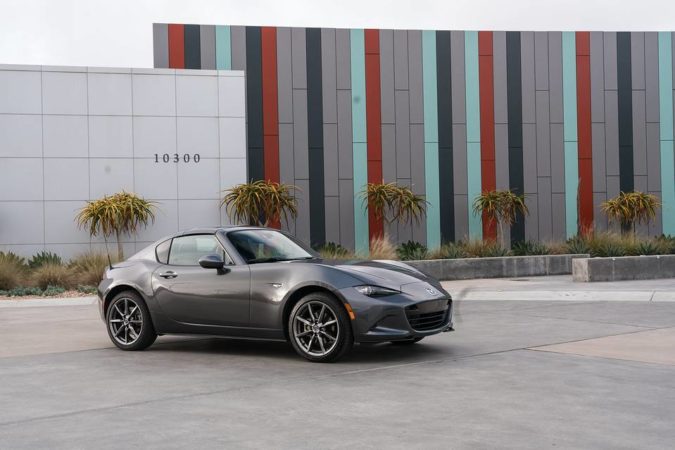 by Dan Neal
for the Wall Street Journal
October 12, 2017
About a decade ago I had hoped that auto makers would relent in their abuse of the word "icon." Instead it got worse. Ladies and gentlemen, the iconic Lincoln Navigator, and so forth.
The word they grope for is canonical. The MX-5 Miata roadster, now nearly three decades in production, belongs to the canon of great cars—inimitable, essential and timeless, a Hall of Famer. And every time I take delivery of one I'm reminded what an outlier it is. There are no other cars quite like the MX-5—a wee four-cylinder roadster with a six-speed manual and a rear axle that feels bolted to your sacroiliac—and there haven't been since the days of MGBs, Triumph Spitfires and Lotus Elans. The elixir in this bottle is as British as mead.
There is one car that's sort of like it: The 124 Spider, a brand-transsexual built by Mazda for Fiat Chrysler Automobiles. The Fiat shares many of the mechanicals of the fourth-generation MX-5 but not nearly enough. The Fiat supplants Mazda's pitch-perfect powerplant—a naturally aspirated 2.0-liter twin cam—with the turbocharged 1.4-liter MultiAir four, which makes more power and torque (164 hp /184 lb-ft), eventually.
But the engine character is all wrong—the desert of torque at low revs, the peaky power band, the pernicious waste-gate flatulence—and the turbo lag is shattering. Tantric sex doesn't have as much delay.
Also, in a case of what critic Harold Bloom would call anxiety of influence, the 124 Spider's exterior design strains to depart from the donor Mazda, to the Fiat's disadvantage. The visual quotes from the Tom Tjaarda-designed original of the 1960s—a two-plus-two convertible with a big boot—are too-heavy significations for a car on a 90.9-inch wheelbase.
Meanwhile, the Mazda's good-luck happy-cat smile with electric whiskers is what Lionel Trilling would have called adorbs. Fiat's sin was to monkey with a masterpiece. So what's that make the 2017 MX-5 Miata RF ("retractable fastback")? When in previous model years the retractable roof closely followed the contours of the cloth-top in order to minimize the visual difference, the RF maximalizes, with a pair of sweeping roof pillars integrated into the power-retractable deck lid. This flowing form, with fixed rear window, rises like a levitating Calatrava building while the roof panel tucks in, then snugs down again. They might have called it RT for "retractable targa" except for Porsche's Wehrmacht of copyright litigators.
The Mazda's power-roof cycle takes about 13 seconds but, because it's such a small car, the speed at which the top can be lowered is limited to 6 mph, to avoid blowing hair being caught in the mechanism. This is the Isadora Duncan protocol.
Flying buttresses have a glorious history of obscuring drivers' rear three-quarter view, to which the RF amply contributes. Its forebears include the Ferrari Dino GT, Chevrolet Corvette C3, Jaguar XJS, Toyota MR2 and Honda del Sol. I couldn't see out of them either.
I would distinguish between these examples, for which the roof buttresses were primarily stylistic, and the latest generation of buttressed supercars like the Ford GT, McLaren 720S or Ferrari 812 Superfast, which use detached roof pillars scientifically, as aerodynamic elements. That is cool.
And despite the self-identifying, the RF isn't a fastback. On a fastback, like a mid-1960s Dodge Charger or AMC Marlin or Jaguar E-Type or Lamborghini Espada, the backlight, or rear window, is steeply raked. The MX-5's small rear window is vertical. This car only looks like a fastback from 270 degrees, thanks to the twin hypotenuse of roof pillars. This design conserves precious trunk space, which at 4.48 cubic feet is a bit smaller than the soft-top's boot.
There is yet more hocus-pocus in the car's faux rear-quarter lights, the apparently tinted-out windows behind the driver. Those are just black plastic panels, not windows at all. I suppose the designers were concerned the RF would look too awesome without them.
The retractable roof mechanism adds 113 pounds to the RF, for a total of 2,445 pounds with the six-speed manual. A six-speed automatic is optional, for burn-in-hell heretics. The RF's life force derives from a blatty, chatty 2.0-liter twin cam (155hp/148 lb-ft), full of beans, torquey and flexible, with max torque and power at 4,600 and 6,000 rpm, respectively. At its 6,800-rpm redline, the Miata blares like a four-cylinder trombone.
The gun-oil slickness of the gear shifter, the heel-and-toe footies, all that jazz… As a British and Italian sports-car veteran, I feel confident saying nothing in the British Leyland or Fiat catalogue was ever this good, or even this dry. The RF feels to me like an idealized film biography of a great star who in real life was a bit of a shite.
2017 Mazda MX-5 Miata Grand Touring RF

Price as tested $34,310
Powertrain Naturally aspirated direct-injection 2.0-liter DOHC twin-cam four cylinder with variable valve timing; six-speed manual transmission.
Power/weight 155 hp @6,000 rpm/2,445 lbs.
Weight-to-power 15.77 pounds/hp
Length/width/height/wheelbase 154.1/68.3/49.0/90.9
0-60 mph 6.1 seconds
Top speed 130 mph (est.)
EPA fuel economy 29/26/33 mpg, combined/city/highway
Luggage capacity 4.48 cubic feet
---