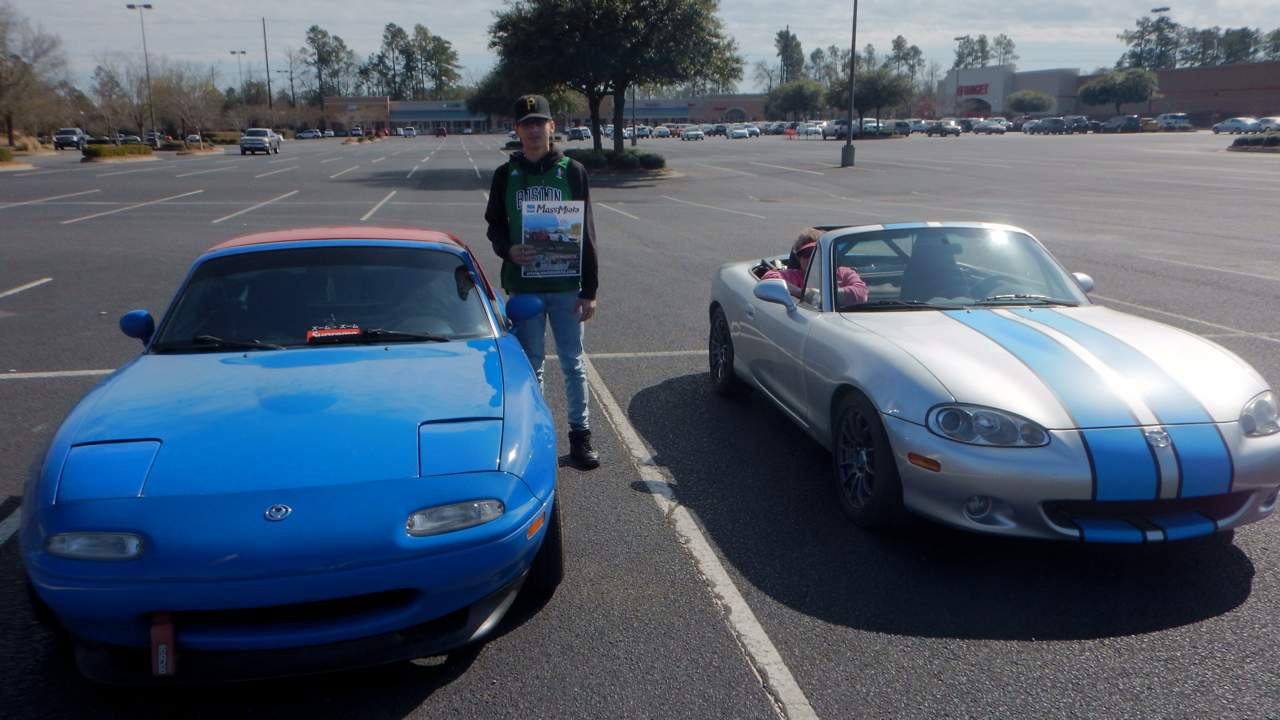 One of the categories in this years Moss Motoring Challenge if to find a car from each decade since 1900 to 2010s. The cars from the 70s to present are worth a point, but then the point value starts going up by 1 each decade going backwards to reach 7 points for a car from 1910-1919. Then it jumps a bit so that an automobile from the first decade of the twentieth century is worth 10 points.
The first photo we took in this category was worth 5 points when a coworker randomly showed up at work with her 1935 hot rod a couple of weeks ago.
Today, Donna and I went to Outback for lunch and then to Target for a little discretionary spending. As we exited the Restaurant I noticed a stanced Smurf Blue NA Miata go by on the street. I've familiar with that car because it used to belong to the boyfriend of our next door neighbor's daughter. That kid sold it when he went off to college so it hasn't been around for a while.
As we drove into the Target lot in our NB Miata I saw a gray retractable hard top NC car leaving. It was then Donna saw that same modded little blue NA and asked, "What year is that?" "90 or 91," I said. She said, "Let's go take a picture of it." About that time we saw a white ND Miata drive right by the front of Target. We had now seen all four generations of the Miata in the same parking lot in a two minute span.
We looped back and took a photo of the customized NA (obviously because of the photo above) and chat with the kid who owned it, told him that we just wanted a picture of his car along side ours for a photo scavenger hunt we were doing. I had the Challenge poster in my hand and as I was showing it to him he reached for it, so I handed it to him. Seeing as he had a hold of it, I asked if he wouldn't mind posing with it and he was game (or just to stunned that this old couple wanted a photo of his car), so I took a couple pictures, one from the front and another from the back.