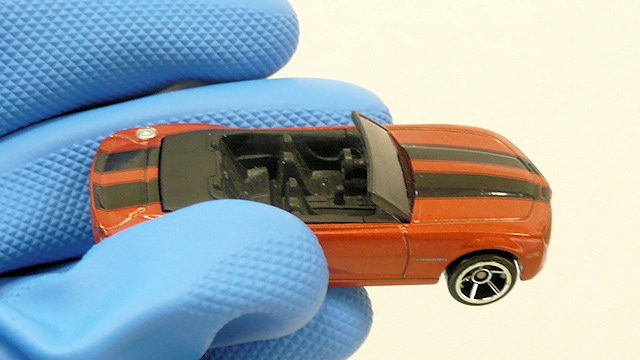 The wait is finally over, Greg got his new Camaro con­vert­ible on Sat­ur­day. He drove it most of the way home with the top down, but some gray clouds on the hori­zon made him stop and put the top up and accord­ing to him it was a good thing, as he just made it into his garage before the skies opened up.
The photo above is a sim­u­la­tion of Greg's new car because he has decided not to drive it in the rain and it has been rain­ing a lot around here lately (actu­ally he did drive it to work yes­ter­day, but I for­got to take a pic­ture.) I may totally explain the blue glove later, but it was for some­thing sim­i­lar to last year's great roach kid­nap­ping caper. The car is painted a sharp look­ing orange metal flake with black stripes and the inte­rior is black leather with orange inserts. Not my cup of tea, but God bless the indi­vid­u­als who buy cars that outrageous.
I heard Greg on the phone to his wife on Tues­day after­noon telling her how much fun it was to drive, but the car hadn't told him its name yet. He did say it was def­i­nitely a she though. I haven't told Greg that I have a name for his car and it is Jackie O. This is not a ref­er­ence to JFK's widow, but a ref­er­ence to the car's color scheme and it is short for Jackie-O-Lantern.
Started up, still up.
Miata Top Tran­si­tions since 10/24/08: 981