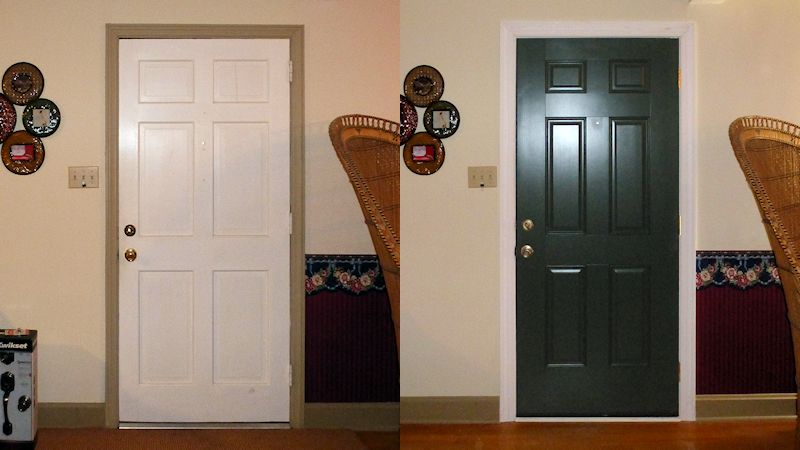 We finally broke down and bought a new front door.
The old one (left) has been serving as the axillary entrance for us since we moved into the house 24 years ago. For all we know it was the primary entrance for the 34 years prior. It had a crack in the upper right wood panel that when the sun was going down it would cast a thin bright line on the back wall of the living room. When the summer humidity set in the door would swell up making opening and closing a job that required a lot of force. The top hinge on the storm door in front of it was broken so that closing it required lifting on the handle to get it to line up with the frame. Because we normally come in and out of the house using the garage door it didn't bother us too much, but the effects of the newness of the kitchen has made us realize that some other things really, really needed updating too.
The new door (right) is made of foam filled fiberglass and weighs about half of what the wood door did. It will keep the winter chill at bay much better and only allow the setting sun to sneak in through the very small peep hole. The storm door is a neat full view door that has one bar across the middle, so that when the top half of glass is lowered and screen unrolls from the top. In spite of the kitchen remodel we bought and had the door installed through Lowes. This time it went off without a hitch.
What goes on behind this green door is nothing like what happens in its famous movie namesake from 1972. If you don't know what I'm talking about you can read about it here. And if that peaks your curiosity, you can watch the first 53 or so minutes of the 71 minute film here.