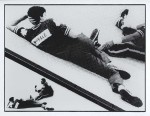 I've always been a Red Sox fan, that has never faded, while the other Boston sports teams that I routed for in my youth have. The Bruins were replaced by the Hartford Whalers. The Patriots were supplanted by the Los Angeles Rams.
The Celtics were the last to go. When Larry Bird called it quits, I did too. I had one of those green Starter satin jackets with CELTICS on the front. That thing set me back about $125 in '81 or '82, which about $300 in today's money, and if I wanted to buy quite possibly that very same jacket, I could get it off eBay now for ten bucks.
We lived in New Orleans from 1983 until 1987, so when the Atlanta Hawks played several "home" games in the then new University of New Orleans Lakeside Arena in 1985, we bought tickets to see them play the Celtics. Donna and I went for sure, but I think that her mom and younger brother may have gone with us too. It was probably too warm in New Orleans for that lined satin jacket, but I wore it proudly. I wasn't the only one, there were more Celtic fans in attendance than there were fans for the home Hawks.
I took the above picture while we were waiting for the game to start, that is Kevin McHale and Dennis Johnson stretching. I may have taken a photo or two of Mr. Bird, but I have no clue what has become of them. That one survives because I used it as one of my projects for a college photography course.
It was a very exciting game, the Celtics kicked Hawk butt and it wasn't even as close as the 11 point margin makes it seem. Larry Bird put on a clinic and scored a team record 60 points. I think of that game very rarely anymore, its 30th anniversary was last Thursday, but it all came flying back the other day when I clicked on a link in the Google News sidebar – 'It Was Like Living in a Video Game': An Oral History of Larry Bird's 60-Point Game.