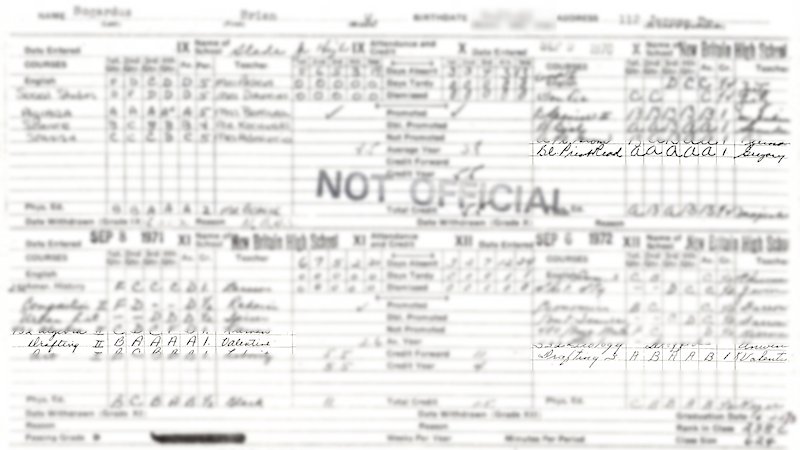 Over the weekend I decided to clean out the 2-tier file basket that is on a table in the computer room. I've been dumping stuff on the top level for quite some time, mostly the monthly, semi-annual and annual statements from State Farm with updates on all of our policies we have with them. The pile had grown taller than the basket and the top forms were sliding out onto the table. Every single one of the Sonata's 6 month bills were in there, which was 8 documents of 6 pages each. The Miata's stuff of similar size went a little further back than 2011, plus the homeowners policies and life insurance policies, it was a mess. I keep the most recent of each and shredded the rest.
In the other tier of this basket was a treasure drove of stuff that I had forgotten I even had. Including the copy of my high school transcript proving my post from the other day. I blurred out everything but the Drafting grades as there is some stuff I'm not too proud of there. The grades reading from left to right are the 4 semesters and the fifth is the average grade for the whole year. Where I'm from high school was only three years, so they tacked on my final year of Jr. High in the upper left (no drafting there.)
Another great find was in a business sized envelope were the cardboard templates for the Pigs In Space sweatshirt I made back in the 80's. I may have to recreate this. I'm going to need a different medium though, the original was made of felt pieces layered on top of each other then sewn on and we don't have a sewing machine anymore.
I also found a Calvin & Hobbes Time Machine sticker that I didn't know I had. There used to be one on the rear bumper of the Emperor, but it went away when the back of the car had to be repainted after the Great Dented Trunk Lid Incident of 2006. I must have had two made … took the newly resurfaced sticker out to the garage and applied it on the Emperor's rear.
Plus my Junior College transcript was there too, so tomorrow's treat will be a glimpse at further proof my drafting prowess.
Started down, went up, still up.
Miata Top Transitions since 10/24/08: 1479