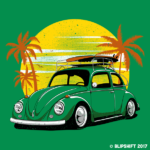 Bought another Blipshift T-shirt. Lucky Number 13 and only the 4th non-Miata T. When I showed it to my wife to make sure I had approval to purchase, she said, "Order me one too."
We are both early VW lovers. Before we bought our first Miata in 1989 we test drove a last year (1979) Convertible Beetle. Not real sorry we didn't buy that VW, because how long I might have missed out on the Miata fun, but kind of sorry because it would be neat to have an old Beetle again. Don't know where we'd put it or even drive it, but those cars have so much character.
Donna's first car was a 1971 Super Beetle. She shipped it over to me on Guam because I was there first, and even though we weren't married yet, she even trusted me drive it around until she got there (I had sold my B210 before going over there.) While we there we fell in with a squadron mate who had the VW "bug" bad, so at one point we owned three, her Type I Beetle, I had a Type III Squareback and together we bought a 15-year old Type II commercial bus.
Her car was a sort-of rare semi-automatic 3-speed that for the heck of it, Keith and I converted to a regular 4-speed standard. When we left the island we sold it to another squadron mate who was going to take it back to California when he left Guam in about a year. He was from Santa Barbara and I like to think that car is still tooling around out there.
My Squareback was an Automatic too, but the more conventional kind. It had dual carbs with a glass-pack muffler and I'd just roar around island. Sold it for cheap to another sailor when we came back to the states and I bet that thing turned into a Guam Bomb. Probably the only thing left of that car is a slightly higher aluminum content in a of patch soil a few yards off a weed chocked back road on the south of the island.
The bus is a whole 'nother post by itself, maybe I'll save that until tomorrow.