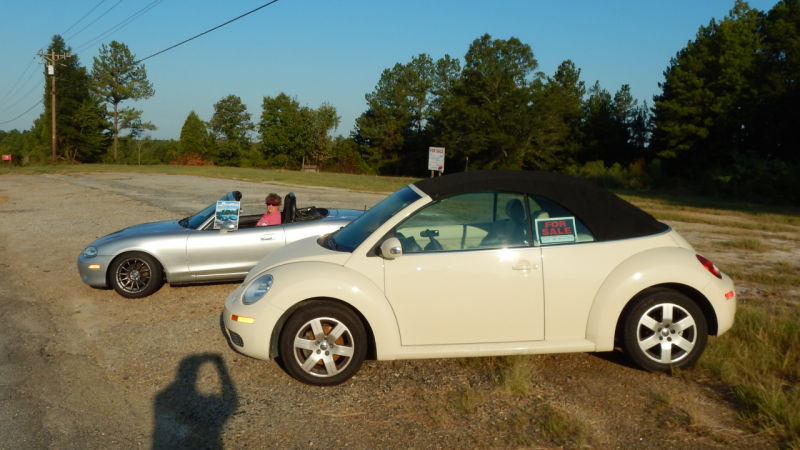 Ever since we took possession of this silver Miata we have been wavering back and forth as to whether we wanted to start all over again doing the Moss Motoring Challenge because of the different car or just let it go.
When we went on our usual Sunday morning bike ride yesterday the many puffy clouds were turning pink and orange with the sunrise and this got us thinking about the Sunrise "Destination" photo requirement for this year's Challenge. So I suggested that we should get up early when we head to Lexington for bagels on Labor Day and if there is another interesting sunrise that will be a sign that we should start the Motoring Challenge again.
When we left the house this morning the sky was just starting to lighten up. By the time we had driven the few miles to the spot we had picked out for the sunrise photo we could tell there was not a single cloud in the sky. Well, that's that, I guess we won't do the Challenge with the CTBNL.
We have owned this Miata now for 27 days and Donna has yet to sit in the left seat, but on the way home she says, "I think it is about time I tried to drive this thing. Pull over here." She was pointing at a stretch of asphalt along the side of the road that had no apparent reason for being there, except maybe as a spot to park cars with For Sale signs in the window. The one car for sale this morning was a VW New Beetle convertible. As I was stopping, Donna said, "That's a cool car from another country."
So, as my good friend King Henry V said, "Once more unto the breach, dear friends, once more."
Motoring Challenge II Points Today 4, Total So Far: 4 points.