Jan­u­ary
Hi, I'm Zeke And I'll Be Tak­ing Care Of You
Sun­day the 10th
After a pleas­ant after­noon geo­caching we decided to eat out for din­ner. Because a cou­ple of our favorite haunts are not open on Sun­day we set­tled for a third tier option, Chilis. They have that 2 for $20 thing going on which we had enjoyed at one in States­boro, GA on our way back from Florida at Thanks­giv­ing. This din­ing expe­ri­ence wasn't as good as that one, but that is a whole 'nother post.
While wait­ing for Zeke to bring our drinks, Donna spot­ted an appli­ca­tion book­let on the table to join their E-mail Club. They ask for your birth­day, so we fig­ured maybe you get a free mar­garita or some­thing on your spe­cial day. Trou­ble was we didn't have any­thing to right write with, so we asked Zeke if he'd lend us a pen. We both filled one out and handed them and the pen back when Zeke brought our appetizer.
As we fin­ished our desert Zeke asked if we wanted any­thing else, when we replied in the neg­a­tive, he dropped off our check and dis­ap­peared. Trou­ble was, he didn't leave us a pen. I eye­balled the receipt and noticed that it was that thin glossy stuff, almost almost like old time fax paper, and thought, I bet this is pres­sure sen­si­tive. I grabbed the salad fork, which I hadn't used, turned it back­wards and test wrote the total on the *guest copy*, with the han­dle. It worked, it was a lit­tle light, kind of like I signed it in pen­cil, but fully legible.
Zeke returned a few sec­onds after I had fin­ished fill­ing out the charge slip and said, "Did I for­get to leave you a pen?" "Yep," I replied, "But not to worry, I signed it with the fork." He was so stunned than he for­got to say thanks for din­ing with us or hurry back or what­ever the cor­po­rate man­dated server's last line is.
---
Feb­ru­ary
A Case of Atten­tion Deficit Disorder
Mon­day the 15th
I haven't blogged much about the actual rea­son we are in the hos­pi­tal for sev­eral rea­sons, Donna isn't as excited to share the inti­mate details as I would be, the spotty inter­net con­nec­tion and the lack of free time allot­ted the assis­tant lay nurse of a sick per­son. But I will shared my favorite story of the past week. Treat­ment for her type of col­i­tis is the steroid solu-cortef. The steroid amps you up and in Donna's case on the sec­ond day kind of turned her into a 5-year old kid with a case ADD. To counter act this the doc­tor pro­scribed Xanax, an anti-anxiety med­i­cine, and it has calmed her some, but not entirely.
While on the clear liq­uid diet she was drink­ing all sorts of flu­ids, but she always kept her favorite three at hand on the bed table, water, cran­berry juice and diet gin­ger ale. Each fluid had its own lit­tle sty­ro­foam cup which she would have me write the flu­ids name in three or four places along the top edge of the cup. She would line them up in a straight line for­ma­tion. Directly behind the cup marked water was the large hos­pi­tal sup­plied plas­tic mug which the staff kept full of ice and water, directly behind the gin­ger ale was the small 8oz can of soda and lastly right behind the cran­berry juice glass were stacked the 4oz plas­tic con­tain­ers of juice. Each cup had its own sep­a­rate straw. After each drink from the cups, some­times one right after the other, she care­fully arrange them back in straight lines.
This morn­ing after we got all the cups arranged and filled with the appro­pri­ate com­bi­na­tion of fluid and ice she looked down at the row of drinks and frowned. When she looked up at me I asked, "What's wrong?" She looked at me and said, "My straws don't match." Sure enough, there were two yel­low straws and one white one. I went over to her neatly arranged bed stand picked out a match­ing yel­low straw.
---
March
With This Ring I Thee Wed
Wednes­day the 31st
Back when Donna was in the hos­pi­tal and they were aggres­sively work­ing at heal­ing her ail­ing colon she was being given 40mg of Pred­nisone a day and she was very hyper with signs of ADD. Her favorite pas­time was to cut up paper and mag­a­zines to make bows and rib­bons. She loved to tape things to other things with the hos­pi­tal sup­plied clear dress­ing tape. Thirdly she hated clut­ter and was for­ever rear­rang­ing and clean­ing up. She used a food tray to keep all her sup­plies on and it moved with her from bed to chair and some­times the floor as she worked on her "projects." As a con­se­quence of the med­i­cine and the zero humid­ity air of the hos­pi­tal her hands were always dry and chapped. This led to a lot of apply­ing of hand cream.
Early in her stay she removed her wed­ding ring and the birth­stone "engage­ment" ring we bought for her after the glass chip feel out of the real one early on in our mar­riage. I kept them on my keyring to return to her when she got out. As the the hos­pi­tal stay length­ened she asked for them back. You know where this is lead­ing right?
Some­where around Day 8 the rings went miss­ing. We weren't even sure when they actu­ally dis­ap­peared because time was very fluid for some­one tak­ing that much steroid. Best guess is one of the times she took them off that day to put on hand cream, they were laid on the craft tray and some­how got thrown away dur­ing a clean­ing up of scrap paper. The staff was very upset and helped tear apart the room look­ing for the rings, even look­ing in the clean­ing per­sons trash col­lec­tion, but they were nowhere to be found.
We were not that upset, things hap­pen and even though there is that line in the vows, nei­ther one of us felt that los­ing the ring had any sig­nif­i­cance in the over­all scheme of our mar­riage. We have been mean­ing to look into buy­ing a nicer set of rings, maybe even do a major upgrade in qual­ity from the set we could afford when we first started out, but as time passed we came to the con­clu­sion that there was not much sense in that. Donna has started to feel funny with­out any rings on, so we have been keep­ing our eyes out for some­thing that would quasi-match my ring when­ever we went in a store. Last night as we were pok­ing around in Dillard's look­ing for a pink sweater for Donna we came across a table with some jew­elry on it, includ­ing some rings. Hey look, here's some­thing that'll fit the bill, its gold and has a bunch of shiny lit­tle bits around the cir­cum­fer­ence. The size 6 was too small, but the 7 fit just right. And at twenty bucks the price was right. Wait a minute, here is a size 9, I won­der if that will fit my skinny fin­ger. Yep, sure did, we have match­ing rings again. As a bonus the rings came a sets of two, so we have a backup in case one of us mis­places one. Behold, the Tivoli CZ Eter­nity Band Set.
---
April
Lit­tle Boy Blue
Thurs­day the 1st
The Folks in the MMC don't know it yet, but tonight is Donna and my last Club meet­ing. Reg­u­lar read­ers will remem­ber that a cou­ple months ago I was vir­tual car shop­ping, well we have decided on a car. It was not on the orig­i­nal list in either cat­e­gory because it fell out­side the the­o­ret­i­cal bud­get limit, and if recent events have taught us any­thing it is you only live once, so you might as well enjoy your­self while you can.
The local dealer didn't have what we wanted, but a quick search turned up almost a per­fect match, satel­lite radio instead of the Ip Odd inter­face, in Charleston, SC. We will be able to pick it up on Fri­day at Tay­lor BMW in Augusta. With trad­ing in the Emperor, $2k addi­tional down, we ended up financ­ing $28,000 @ 3.95% or $475 a month for the next 6 years…
Meet Lit­tle Boy Blue: a BMW 128i Con­vert­ible.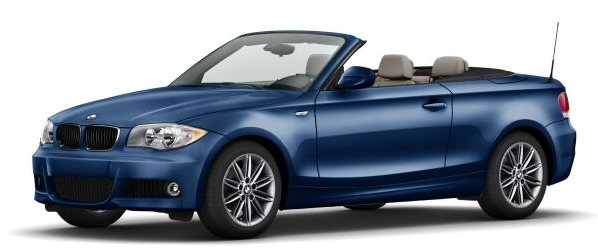 ---
May
Iron Man 2
Sun­day the 16th
My rants about this movie the other week turned out not to be as big an issue as I imag­ined. The intro to the Stark Expo was still a lit­tle long, but taken in con­text not all that bad. The race scene/suitcase suit grip dis­ap­peared because Whiplash didn't just wait for it watch­ing, he was pinned to the side wall by Happy dri­ving a Rolls Royce. Mickey Rouke makes an awe­some vil­lain. I don't under­stand why they change the open­ing bit from the trailer wher Tony jumps out of the plane unless they though it might spoil the the end­ing bit. I thought it would have been a per­fect way to tie that together…
Scar­lett Johans­son looks good in black hair and her chem­istry with RDJ leads me to believe she would have made a good Pep­per Potts had not Gwyneth Pal­trow already had a lock on that role. But the whole Black Widow bit seemed tossed in as an intro to the char­ac­ter and for the sex appeal of the suit (not that there is any­thing wrong with that.) But if rumors are cor­rect and the Black Widow gets her own movie, I think I feel a repeat of Cat Woman or Elek­tra com­ing on.
There is more action in this one, some dan­ger­ously close to being too much (and/or too long), but all and all very sat­is­fy­ing. Man I need one of those suits…
Two impor­tant lessons can be learned from this movie, 1) do not ever let a Russ­ian near your com­puter, both the males and females seem to be trained hack­ers that can break any encryp­tion thrown at them and 2) (this one I already knew) a con­vert­ible is as good as a pick up truck on a sunny day.
Brian gives it 2 thumbs up and Donna says I owe her a Julia Roberts movie.
---
June
Frus­tra­tion
Tues­day the 1st
While return­ing from Hen­der­son­ville on Sat­ur­day after­noon I wit­nessed the true def­i­n­i­tion of frustration.
We were zip­ping along south on I-26 some­where south of Spar­tan­burg with Donna at the wheel and me watch­ing the world go by at 70 MPH. Up ahead I could see three turkey buz­zards right on the edge of the shoul­der mov­ing back and forth towards the road. One would take a cou­ple steps towards the right lane and then quickly hop back. Then another would do the same thing. When we got right next to them I could see what was going on. There was a small piece of road­kill about 2 feet into the right lane and after a car passed, one bird would take a few steps towards what it con­sid­ers food, he would get about 5 feet from a tasty morsel, then another car would approach mak­ing it hop back to safety. Trou­ble was, traf­fic was fairly light and there were sin­gle cars in the right lane spaced evenly about 200′-300′ apart, so there was never enough time to get a nib­ble safely.
---
July
Morn­ing Bobby
Tues­day the 13th
Sev­eral years ago it seemed like there was an abun­dance of peo­ple by the name of Robert who worked at The Valve Store™ and as a joke, myself and another coworker would always say, "Morn­ing Bobby", when we'd pass each other for the first time each day. His name is Joey and mine is, well duh, Brian, but we got a kick out of it.
Over the years the num­ber of Roberts waned, Jims took over the top spot, yet we still kept up the 'Morn­ing Bobby' rou­tine. The num­ber of folks named Jim hasn't dimin­ished any, but Bobs have made big advances again recently. My imme­di­ate super­vi­sor is named Bob and his boss is named, yep, you guessed it, Bob. To dif­fer­en­ti­ate between them they are some­times referred to as Lit­tle Bob and Big Bob respec­tively. Our lat­est Indus­trial Engi­neer is also a Robert and usu­ally went by Bob, but I think as a con­di­tion of employ­ment, he had to will­ing to be known as Rob to avoid fur­ther confusion.
With them ceas­ing man­u­fac­tur­ing at the home office in Florham Park, NJ we have had a few folks from up there make the tran­si­tion to work­ing here in South Car­olina. The last two to join us are both named Bob.
Joey and I will may just start say­ing, "Morn­ing Bobby", when­ever we pass any­body, because we will have a real good chance of being right.
---
August
OW!
Sun­day the 8th
Some­times I don't even heed my own advice.
Nearly 2 years ago I posted here that one shouldn't use a string trim­mer with­out wear­ing long pants. That time I came away with a speck­led leg from the dirt and tiny stones kicked up by fish­ing line rotat­ing at sev­eral thou­sand RPM. This time it is much worse.
Today when I cleaned off the front porch using the leaf blower I noticed a few strands of ivy creep­ing their way towards the house. I went and got the trim­mer which was freshly loaded with some of that heavy duty red string stuff. As I made mince meat of the ivy I could feel a few things ric­o­chet off my legs, but then sud­denly I for­got all about my lower extrem­i­ties because some­thing grabbed me by the right ear and lifted me off the ground. OW! I must have pissed off a wasp and it stung me on the back of the ear.
It is 4 hours later and my ear still hurts worse than that time in sec­ond grade when Bobby Mitchell punched me in the head because I stuck my tongue out at him dur­ing recess.
---
Sep­tem­ber
I Can't Believe I'm Still Listening
Sat­ur­day the 4th
I must be a real fan. As of this morn­ing, depend­ing on which ver­sion you believe, the FRS play­off chances stood at 3, 4 or 5%. That was before the Yan­kees won their game today and the Sox lost the first game, post­poned by Earl from last night and will likely lost tonight's reg­u­larly sched­uled game (they are los­ing 3–1 in the 7th.)
As much as I enjoy the cof­fee (and the cof­fee cake muf­fin) from Dunkin' Donuts I fear they may have lost our busi­ness for­ever this morn­ing. We should have taken the hint. On our way into the place this morn­ing we passed a car with a fel­low in the dri­vers seat talk­ing very loudly to him­self, or rhetor­i­cally to his pas­sen­ger inside the store, say­ing, "How long does it take to get a dou­ble cof­fee?!?" There were three employ­ees with only three cus­tomers, so it shouldn't have taken too long, but some­how it did.
One asso­ciate, because of the head­set, must have been the drive-up per­son, who's job descrip­tion read, "Do not leave the win­dow for any rea­son, even if there are no cars in line. And when you are not busy please feel free to carry on a per­sonal con­ver­sa­tion with your fel­low employ­ees to aid in the dis­rup­tion their pro­duc­tiv­ity." Employee num­ber 2 was the main counter per­son and was either very new at the job or only used to deal­ing with humans via tex­ting or stoned and hav­ing a hard type com­plet­ing a com­plex order that con­sisted of three cof­fees. To be fair, this per­son was deal­ing with some­one who had either never been in a Dunkin' Donuts before or never ordered cof­fee or was hun­gover. The third per­son dressed in a pink polo shirt with DD embroi­dered in brown on their right breast was prob­a­bly the "cook" and tried to help out the sec­ond per­son in line (whose part­ner was out­side with steam escap­ing his ears and pos­si­ble think­ing of dri­ving his 15 year old pur­ple Dodge Neon through the front win­dow), but was stymied by the request for iced cof­fee and the unex­pected return of cus­tomer num­ber 1 to ask where they kept the "to go" sugar. We took this oppor­tu­nity to leave the store.
We headed back across town at a small fam­ily restau­rant called Aut­ens that we had been mean­ing to try for some time. We ended up spend­ing a bit more money there and the cof­fee was noth­ing spe­cial, there were three really nice sur­prises. First was they offered a salmon cake as a meat side, which Donna ordered, and I sam­pled, which was very good. The sec­ond was instead of hav­ing "home fries" as the alter­na­tive to grits they offered some­thing called potato scram­ble, which turns out to be, I'm guess­ing, last nights mashed pota­toes with some but­ter mixed in and fried on the grill into a sort of pan­cake. Thirdly, our wait­ress was Evan­ge­line Lilly who was pos­si­bly doing research for her next movie. She is a lit­tle younger look­ing than she seemed on TDTVS and her freck­les were cov­ered by makeup, but it was her alright.
---
Octo­ber
Sorry I Doubted You James
Mon­day the 4th
Oh, about a month or so ago, we had vis­i­tors and one of those vis­i­tors was a 3 year-old nephew named James (Hi James.) One of the things we had to amuse said 3 year-old was a book about air­planes. It wasn't just any ol' sta­tic book about air­planes, it came with lit­tle card­board repli­cas of planes that needed to be put together and had the advan­tage of being capa­ble of flight. Not real aero­dy­namic flight mind you, but by brute force. Each plane replica had a small notch on the bot­tom of the "fuse­lage" that you hooked the rub­ber band of the included prim­i­tive sling­shot thingie into and then pulled back as far as your mighty 3 year-old arms would go before let­ting loose launch­ing the plane into the wild blue yonder.
James and uncle Brian spent a few enjoy­able hours over the course of a cou­ple of evenings "fly­ing" planes in the back yard. One evening James launched the B-2 bomber with a mighty tug and it soared off in the direc­tion of our mimosa tree and I didn't see it come back down. He said it was stuck in the tree. I couldn't see it, so I fig­ured it had come down in the neighbor's yard. James insisted that he could see it and wanted me to go up and get it. I just knew it wasn't there, so told him I would get it, but I couldn't, because I didn't have a tall enough ladder.
Tonight as I walked under­neath the mimosa tree on the way to the shed to get out the lawn mower and leaf blower so Donna and I could do a lit­tle lawn main­te­nance, I looked down on the ground and this is what I saw: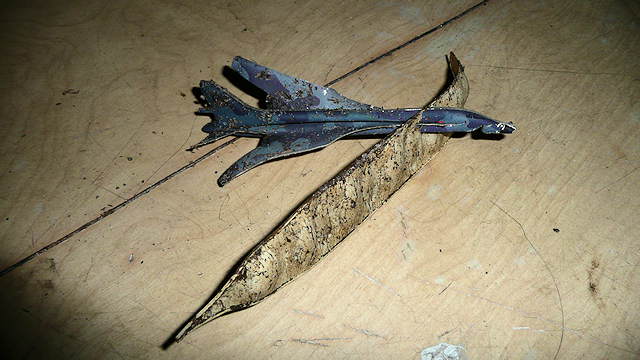 ---
Novem­ber
Obit­u­ary For A Printer
Tues­day the 16th
Friends,
It is with much sad­ness that I inform you of a beloved co-worker's pass­ing yesterday.
PRVLAK_DFT_H4V_01 suc­cumbed to a "50 Ser­vice" error. PRVLAK_DFT_H4V_01 or as his friends called him, Laser­Jet 4V, was 16 years old and for the first 15 years of his life he was a robust and reli­able fel­low who printed each and every one of the over a quar­ter mil­lion pages with glee. Last year age finally caught up with him requir­ing a tricky fuser trans­plant. Shortly after his full recov­ery from that ordeal, his 11 x 17 paper tray needed to be ampu­tated because of wear. Three weeks ago with his rare life blood toner run­ning low, it was dis­cov­ered that sup­plies of this pre­cious com­mod­ity were no longer avail­able through nor­mal chan­nels. Unfor­tu­nately the non-FDA approved toner from South Amer­ica did not arrive in time to save his life.
PRVLAK_DFT_H4V_01 is sur­vived by his big brother PRVLAK_DFT_HDJ800 and his cousin PRVLAK_ENG_HP4650. Funeral ser­vices are being han­dled by Safety Clean and will be pri­vate. In lieu of flow­ers please send Sta­ples gifts cards.
Brian Bog­a­r­dus
Arts & Crafts Engi­neer
ASCO Valve Man­u­fac­tur­ing
a facil­ity of ASCONUMATICS
part of the Indus­trial Automa­tion Divi­sion of Emer­son Elec­tric Cor­po­ra­tion
located in beau­ti­ful Aiken, SC, USA
---
Decem­ber
Worst BBQ Ever
Sat­ur­day the 4th
We went geo­caching today in Craw­fordville, GA and A.H. Stephens State Park. We took along a coworker and because the Miata does not seat 3 com­fort­ably we took her car. Craw­fordville is where Hol­ly­wood comes call­ing when it needs to film in a quin­tes­sen­tial small south­ern town. There have been about a dozen films that have used this town as a bit player in them and there are 8 caches here with names that are the titles of those movies. We looked for 4 and found 2. The two we missed I don't count as DNFs because they were in loca­tions that made us very ner­vous search­ing which was only height­ened by the fact that we were dri­ving a car with New Jer­sey plates. There were 6 caches in the state park that you can get to by land and we found 5 of them.
Prob­a­bly the most rec­og­niz­able movie that was filmed in town was "Sweet Home Alabama" and for lunch we decided to eat at the BBQ place that was used in the bar scenes (Stella's Road­house) of the movie. We were talked into get­ting the Plate by the almost surly woman behind the counter at Heavy's as it included meat, brunswick stew and coleslaw. We opted for a rib plate and a chicken plate to split between the three of us. The coleslaw was too vine­gary and had way too much pickle taste. The "stew" was run through a food proces­sor for too long as it was kind of a sickly look­ing brown mush. The only thing remotely edi­ble was the meat and that was over­pow­ered by the amount of BBQ sauce it was cov­ered in. Inter­est­ing place to visit, but you don't want to eat there.
---