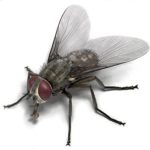 Two of the Valve Store's engineers were standing outside my cubical discussing a housefly problem. The engineer with the problem had tried a couple things with little success, so the other says, "Have you heard about air-power gun that shoots salt that kills them." "Nooo..", came the reply. "It is sort of like a shotgun water pistol that fires table salt."
I hadn't either, so I looked it up. It's called Bug-A-Salt, cute, huh? So, the housefly host says, why don't you get a couple of them and bring the boys over (non-fly guy has 5-year old twins) and they can hunt the flies down. I'll offer up a bounty. At this point I jump in with, "Hey, I want in on this bounty. How much is it?" The answer is $50 a ton. This is a perfect answer because the kids will jump at the size of the bounty and not really have a sense of how much a ton is.
I on the other hand know how big a ton is and how big a fly is, so I'm no longer interested in hunting houseflies. But I am now curious as to just how many flies it would take to get a ton of them. A quick search turns up these figures in a couple places, so they are going to be accurate enough for our little math problem.
Typical housefly: Adult size: 5-7 mm = 0.005-0.007 m Adult mass: 12 mg = 0.000 012 kg
1 Imperial Ton = 1016.05 kilograms, so we divide 1016.05 by .000012 = 84670833.333, or just a mere 84.7 million flies in a ton. Not nearly as many as I originally thought, I would have guessed some number followed by about 10 or 12 zeroes.
Next I guess we will also need to figure out how big a bucket we are going to need to hold ton of flies. I couldn't find a volume for a house fly, so I'm going to take a SWAG and say if the fly is 6 mm long and it is roughly cylindrical shape of about 2.5 mm in diameter. This gives me, fudging for wings and legs, let's call it 30 cu/mm per fly. So the 84670833.3333 x 30 = 2540125000 cu/mm. Converting to cubic feet gives us 88.90437499965 or a slightly overfilled 3-yard dumpster from California Waste Services.