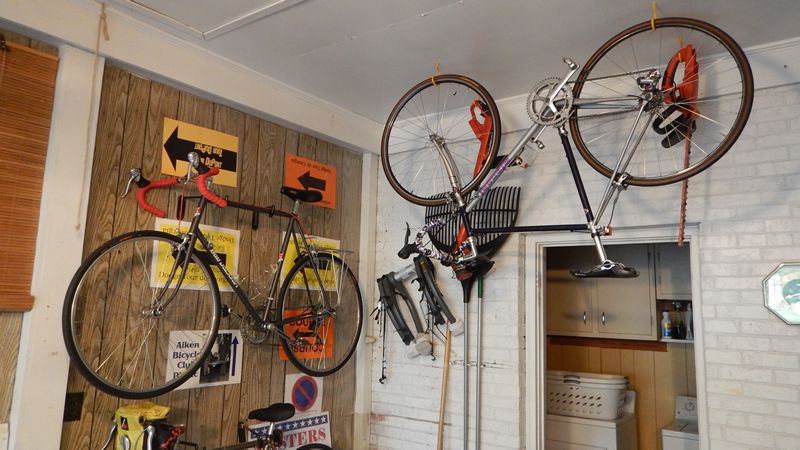 When Donna retired she said that the only thing she was going to miss was riding the bike to work on Friday. We decided that seeing as we couldn't ride the tandem, I would ride a my single bike and she would ride her single bike with me half way and turn around. She would then come back in the afternoon and meet me near the Valve Store, that way she'd get in 1-1/2 bike trips to my one.
Trouble is my regular single bike is a lightweight club racer, not a commuter, so there is no way to mount any of the racks on it that would allow me to transport my clothes and lunch to work. One way to go about it would be to take all the stuff I need at work on Friday by car on Thursday night, then retrieve it by car later Friday evening or Saturday morning. But we used to be so proud about riding to work on Friday because often times we wouldn't even use the car at all that day, now with this option we would be making two car trips to ASCO to support one bike trip there.
Several years ago when I got the Bianchi road bike we stripped a few of the parts off of the Bob Jackson framed touring bike to upgrade Donna's touring bike and hung ol' Bob upside down from hooks in the garage. My idea was to get my old touring bike down and take it and the various other parts, that may have come off it originally or may have come off Donna's touring bike or may have came off some other random old bike, down to Cyclesport and let Shareen work her magic. If it needed something, and we figured it would, she could source it and fix up my old friend.
Turns out it needed new tires and tubes, a 42 tooth front chain ring, a set of brake calipers, new cables and some handlebar tape. We got it back a few weeks ago and I mounted the front and rear racks, strapped on the front panniers off the tandem and my new trunk bag for my lunch. I took it out for a shakedown cruise around the neighborhood it felt good. The weekend before the first planned ride to work, Donna and I went for a usual Sunday morning Ridgecrest breakfast ride. The clip-less pedals were tighter than on my club racer and there was a slight creaking coming from up front somewhere, but other than that the bike felt like a pair of sturdy well broken-in shoes – comfortable, familiar and ready to go anywhere. When we got home I loosened the screws on the pedals and tightened down one of the front racks mounting screws.
That Friday on the way to work the creaking was still there. On the way home it was little louder. The sound was most evident when standing on the pedals climbing one of the small hills on the route and seemed to coming from the handle bars. When I got home I loosened the stem and pulled it out of the frame, cleaned it off and coated with a little grease, because this could be the source of the sound. I then took the front rack off entirely and went for a ride around the block. The creak was still there when I rocked the bike by pressing down on the left side of the handlebar and lifting the right. So now I'm a little worried about the creaking because the handle bars are original to the bike (which was bought new in 1981!) and after 36 years of life/use they might be suffering from metal fatigue.
Figured I should take it to a professional for a second opinion, so back to Shareen at Cyclesport. Dropped it off late on Tuesday evening. On Wednesday when I called her after work, she said she pulled the handlebars out of the stem and lubed that too, another known creak creator, and neither part looked like there were cracks in them, but the sound was still there. I told her I'd be down to get the bike. When I got there she said, "I found where the noise is coming from." I said, "Great." She said, "Noooo, not really." "See that scratch on the head tube?" "Yeah," I say, "I noticed that, along with all the other paint imperfections on a 30+ year-old bike." "Well, that's no scratch," she takes a box cutter blade, lines it up with the scratch and proceeds to push it in about a 1/16″ of an inch, "that's a crack." It starts at the front, angles up and follows the outline of the lug, ending about 2/3rds of the way around the head tube. Crap.