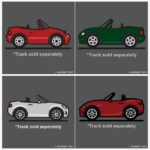 I've got a Blipshift problem. Like a junkie looking for another fix I check their site nearly every morning hoping that I'll like their design, I need just one more car related T. They've done about a dozen Miata related shirts and I have 6 or 7 of them. I've also got at least 3 other random design shirts too. I've submitted a Miata design idea, which they used. I also submitted a photo using the hashtag #blipshifted that they used on the site.
For the design idea, I got a free copy of that particular shirt & and a big gift certificate of Blip Bucks (or what ever they call 'em.) For submitting the photo of socks-in-a-jar I got an additional smaller gift certificate. So when the design(s) in the thumbnail showed up on Wednesday I knew I had to get one. I still had money left over on the gift certificate from my Pop Up Blocker suggestion and it was burning a hole in my pocket, so I splurged and got a hoodie and a shirt (and a sticker.)
For the hoodie I bought the silver NC because that is what color my current car is. Besides no one but probably a Miata purist will know which generation it is anyway (and even in the MMC there are probably only 3 or 4 who would know.) Then I bought the red ND on the t-shirt. The green NB was too dark on the dark gray shirt, if they ever resto-mod the shirts I'd get the NB version if it was lighter in color or green on a lighter colored shirt.
On the way over to North Augusta for dinner out with friends the CTBNL past through its 51,000th mile.