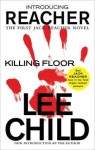 We were in the book store on Saturday looking for some summer reading and I was so desperate to find something I would enjoy that I picked up a Jack Reacher novel, Killing Floor.
I have read all the Jack Reacher books and chew through them like I used to with Robert B Paker's Spenser novels. Because I was sure I has already read this book I kept waiting for the moment when I would go go, "Oh yeah." But I'm now more than half way through and that moment hasn't come. Did I miss this book in the series or is it because it was written in 1997 that I've completely forgotten it? I'm thinking I just missed it, but the light of recognition may still go off in the next couple hundred pages.
This is a reprint of the very first Jack Reacher book and it has a new introduction by the author Lee Child that tells how he came to write and why he chose the genre, an anti-hero and how he came to name his protagonist. It also has a new round yellow circle on the front cover that reads "See Jack Reacher now in his first major motion picture."
The introduction adds nothing new if you have visited the Lee Child's web site, so what I really wanted was what he was thinking about with the much smaller Tom Cruise playing his 6'5″, 250 pound creation. I have heard that he publicly said he was happy with Cruise in the role. I recently had an opportunity to watch the movie and passed on it just because I knew I couldn't be so charitable.