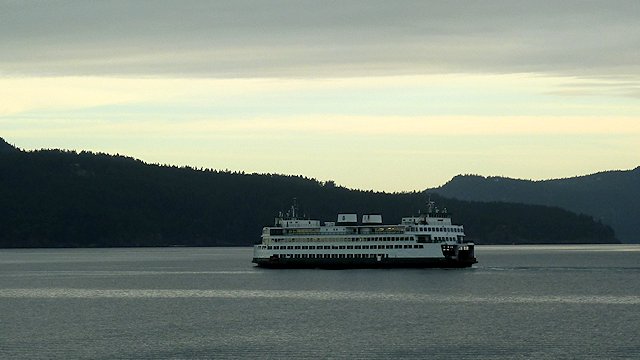 –Wednes­day July 4th Morn­ing–
We were up at the crack of dawn to catch the first ferry of the day off San Juan Island. At the 5:40AM depar­ture time there is very lit­tle stir­ring on the island except for the 5 of us in the ferry line up area and the guy oper­at­ing the cof­fee stand just across the street.
One of the great things about rid­ing the Wash­ing­ton State Fer­ries is that while you are going one way, there is another ferry going back the other, thus usu­ally cre­at­ing a nice chance to get a photo.
Once you arrive in Ana­cortes, WA there are two ways we could get to Sno­homish and Donna's brother's house. First option is due east to I-5, south on the Inter­state, then a short jog east again (50 miles/1 hour & 8 min­utes.) Or WA-20 West over Decep­tion Pass onto Whid­bey Island, this changes to WA-525 South to Clin­ton where you catch a ferry to Muk­il­teo and fin­ish up zig­ging east through Everett (78 miles/2 hours & 16 min­utes.) Guess which one we took? Right, the slow way, down Whid­bey Island to take a sec­ond ferry.
We had had a light break­fast at the Juniper Lane Guest House about 3 hours ear­lier, so at around 8:30 we were get­ting hun­gry again. For­tu­nately for us we hap­pened to be pass­ing through Free­land, WA and we stum­bled on the sort of place we would take the MMC for break­fast if it wasn't a 4 day drive one way, the Free­land Cafe. Both Donna and I had typ­i­cal morn­ing fare, but the fel­low at the table to our right had this din­ner plate heaped high with some­thing odd look­ing for break­fast, some­thing off the Hawai­ian Style sec­tion of the menu called the Loco-Moco. Two eggs, a ham­burger patty over rice smoth­ered with gravy! I'm bet­ting this place could be fea­tured on one of those Food Net­work shows, but I'm also bet­ting they wouldn't want to be.