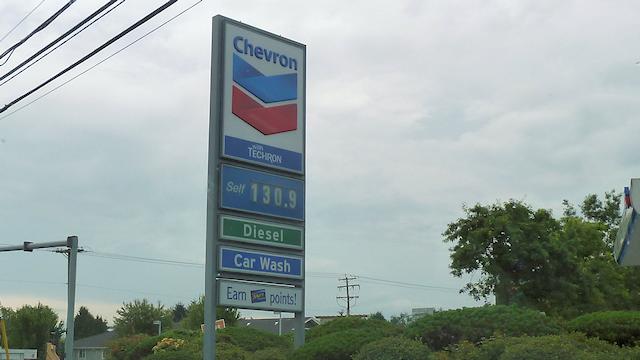 –Fri­day June 29th–
When we arrived at the Atlanta Air­port we pulled into the first avail­able long term park­ing lot. I grabbed the ticket and hung a left and imme­di­ately noticed an empty spot to the left. I pulled in and we unloaded the lug­gage. As we walked back towards the cen­ter aisle we noticed a slightly bet­ter lit spot along the fence near the entrance ticket booths. So I moved the car and after 4 tries of back­ing it in, I got it cen­tered and straight enough to not be embarrassing.
Made note of our row num­ber (17) and assum­ing it worked like it does at most air­ports we rolled our lug­gage to the cen­ter aisle to get to a shut­tle bus shel­ter. There were no shel­ters, hmmm. We wan­dered back and forth a bit look­ing, but the only thing we saw was a small build­ing that had a shut­tle bus parked near it. As we headed that way we noticed a shut­tle bus com­ing our way.
It drove right by.
So we con­tin­ued our way to the build­ing where Donna found a locked door and when she tapped on a win­dow, she was ignored. Return­ing to the cen­ter aisle we saw another shut­tle bus. It saw us and promptly turned down a row, drove to the end aisle, drove a ways and came back out in the cen­ter aisle past where we were!
About then a young cou­ple showed up in their car and told us they thought we needed to be way down on the other end where there was some­one direct­ing cars into park­ing spots and that is where the buses picked up peo­ple. They offered us a ride, but we declined, it was only about as many yards away as what the tem­per­a­ture was, 107.
As we walked towards where we were sup­posed to go, we noticed for the first time the traf­fic direc­tor guy who was all ges­tic­u­lat­ing like a Bermuda traf­fic cop, but with a lime green vest, instead of a snappy uni­form, and match­ing lime green gloves, instead of white. Once on the bus, the dri­ver asked where we parked and I explained our spot. He wrote down 18A on a magenta square of paper.
–Fri­day July 6th Really Late–
We col­lect our lug­gage and wheel out it to the curb where there are three Park-N-Fly buses just wait­ing. As we approach the first one dri­ves off, so we go for the clos­est bus. The dri­ver next to the door shakes his head and points at the other bus. As we head for­ward, that bus starts to move. Great! As we start to turn round, we real­ize that it was just pulling up to fill the spot vacated by the pre­vi­ous bus. Sheep­ishly we turn back around and get on the (now) first bus.
The very cheer­ful and per­son­able dri­ver asked for our lit­tle pink ticket with our row num­ber. We waited a few min­utes and a cou­ple of young guys, then a young hus­band and wife duo boarded. As they handed her their tick­ets, she closed the door and off we went. I guess at this time of night on a Fri­day, the occu­pants of three cars is a full load.
The dri­ver tells us we'll go to our car first. And because of the time of night, she will stay with each of us until our car starts for safety rea­sons. We drove down "our"row, but there was no Pur­ple Whale. It wasn't because it had been stolen (I hoped) because this wasn't really our row as there weren't any tick­ets booths right behind it. But because we came in at mid day and it is now dark as dark can be and the bus didn't come in the same way we drove in a week ago, I'm a lit­tle dis­ori­en­tated as to where we actu­ally are. The dri­ver cruised the next row over and asked me to hit the door lock but­ton, so we could find the car by the flash­ing lights. No lights.
On to Plan B. We head off to find the two guys' truck. We are look­ing for a beige Ford pickup truck. We cruise down the row that was writ­ten on his ticket. The dri­ver asks, "Can you see it?" He replies, "I can't see any­thing. The win­dows are so darkly tinted." She calls back, "Use your clicker." He goes, "My truck doesn't have that." So now there are 7 sets of eyes peer­ing into the dark­ness look­ing for a brown pickup truck. The young hus­band calls out, "Is that it?!" Nope. The dri­ver asks, "Is that it?" "No." We cruise down the adja­cent row where finally the fel­low calls, "There it is." The shut­tle bus dri­ver asks, "Did you pull through?" "Ahh, yeah," came the reply.
The wife of the other cou­ple says, "We did too." So now the dri­ver knows to go down Row 3 instead of Row 2 that was writ­ten on their ticket and we make short work of find­ing their red Chevy Cav­a­lier. Back to find­ing the Pur­ple Whale.
We tell our dri­ver that it is backed into a spot next to the incom­ing ticket booths. We tell her it is across from a trailer or some­thing and she says, "We don't have no trail­ers here. Maybe it is the com­pany build­ing." We head back down to Row 17 and there in all its flash­ing turn sig­nal glory was our car. We say, "Thanks," as we exit and hear the dri­ver mut­ter­ing under her breath, "Those idiots need to start writ­ing down the right numbers…"