Not that kind you sicko, den­tal implants!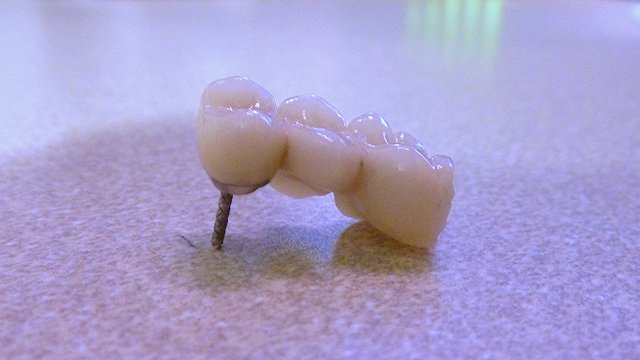 A week and a half or so ago Donna felt a swelling in her mouth near where she has a 3 tooth bridge. We called the den­tist and they saw her that very after­noon. We were hope­ful that there was just some­thing stuck under there that had eluded her clean­ing efforts. No such luck. X-rays showed that the tooth sup­port­ing her bridge was cracked and the swelling was from an infec­tion. They took impres­sions and sent her home with a script for an antibi­otic and a pain pill.
Fast for­ward to today and she had an appoint­ment to have the bridge removed (see photo), the bro­ken tooth pulled and the tem­po­rary fit­ted. As Mar­vin Lee Aday once sang, "…two out of three ain't bad." The tem­po­rary "bridge" wasn't cor­rect and the den­tist couldn't make it work. She is now stuck with a big ol' gap between her back molar and an eye tooth on the upper left side until another tem­po­rary is ordered up. They took some new impres­sions hop­ing they will get a more cor­rect temp next time.
The tem­po­rary is some­thing that will have to work for a while too, because to fix this issue we are talk­ing two or pos­si­ble three implants which with our mea­ger den­tal plan will prob­a­bly cost us more than my recent scop­ing and ER visit. I won­der how much we can recoup by sell­ing the bridge you see to one of those RVs that are pop­ping up around town that buy gold?