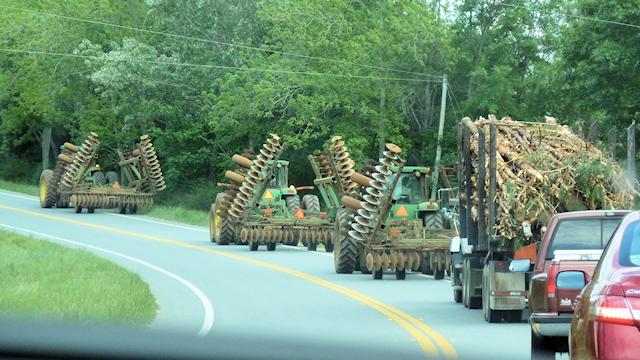 For what­ever rea­son, there was gobs of traf­fic head­ing east on I-10 with us today all through Louisiana, Mis­sis­sippi and Alabama. For­tu­nately there were no major slow-ups, except the tun­nel under Mobile Bay, so we made great time, but we were always sur­rounded by fast mov­ing cars and trucks. Mys­te­ri­ously, traf­fic thinned to almost noth­ing once we got into Florida and past Pensacola.
But wouldn't you know it, but as soon as we got off I-10 to hit the back roads of Florida, we ran into a con­voy of farm imple­ments crawl­ing along at 25MPH. The roads were hilly and curvy enough that we, along with some oth­ers, were stuck behind them for about 20 min­utes. We thought we caught a break in Camp­bell­ton when 2 of the three went straight and only one turned right with us stay­ing on Florida Route 2. It was short lived though, as those two just took a dif­fer­ent route through town and two min­utes later popped back in front of us. Sigh.
We hunted only two caches today as we wanted to make big mileage, one was in Mis­sis­sippi and the other was in Alabama, bring­ing us to hav­ing found caches in 40% of these United States.
Tonight we are stay­ing at the same Hol­i­day Inn Express in Bain­bridge, GA as we did Mon­day evening on our way west. This time it is dif­fer­ent, and not just because we are in a dif­fer­ent room from then, but the hotel is flirt­ing with dis­as­ter this week­end as it is where the band Molly Hatchet is stay­ing while play­ing at the 1st Annual Red­neck Expo & Golf Cart Rally that's here in town.
The Pur­ple Whale passed the 17,000 mile level near Span­ish Fort, MS.