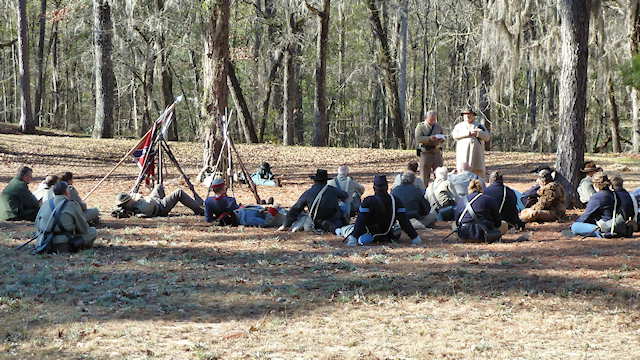 On the way back from HHI we grabbed a cache in another State Park in the Sand­hills Chal­lenge, Rivers Bridge.
Easy walk to the cache. We swapped out a cou­ple SC Parks items for a cou­ple of McToys and a cov­eted South of the Bor­der bumper stickers.

After find­ing the cache we walked the mile straight trail to visit the bat­tle­field. I guess because we are close to the anniver­sary of the actual Feb­ru­ary 2nd & 3rd bat­tle there were a group a Civil War re-enacters tour­ing the site as well. We stopped and lis­tened as one gen­tle­man read a let­ter from a Con­fed­er­ate sur­vivor of the battle.

Thanks for bring­ing us here.
On Feb­ru­ary 2, 1865, a Con­fed­er­ate force under Maj. Gen. Lafayette McLaws held the cross­ings of the Salke­hatchie River against the advance of the right wing of Sherman's Army. Fed­eral sol­diers began build­ing bridges across the swamp to bypass the road block. In the mean­time, Union columns worked to get on the Con­fed­er­ates' flanks and rear. On Feb­ru­ary 3, two Union brigades waded the swamp down­stream and assaulted McLaws's right. McLaws retreated toward Branchville after stalling Sherman's advance for only one day.
Although his­tor­i­cally not a large bat­tle, the Bat­tle at River's Bridge was sig­nif­i­cant because it is the last defen­sive effort of the Con­fed­er­ates against the march of Sherman's army to Colum­bia. Actu­ally, only in total, approx­i­mately 6,200 sol­diers were involved in this bat­tle — 5,000 Union sol­diers, and 1,200 Con­fed­er­ate. 262 men were killed — 92 Union and 170 Confederate.
Some­where on I-95 North this morn­ing the Pur­ple Whale passed over the 12,000 mile mark.