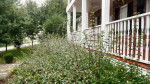 It was a quiet and rainy day here at the SMH. We were up early enough to get the lot mowed and give a bad hair­cut to the hedge in front of the porch (before pic­ture to left) before the rain started.
We didn't get in any caching because we are not hard core enough, a lit­tle (and it was not always lit­tle) bit of pre­cip­i­ta­tion scared us away.
So we stayed inside and watched all of Disc 5 of Sea­son 7 of West Wing this after­noon and we now have just the very last 3 episodes to watch. We are still not sure what we are going to replace it with in our TV rental queue, quite pos­si­bly nothing.
After West Wing I spent the next three hours watch­ing the FRS lose to the Yan­kees again. I know the games don't really mean any­thing stand­ing wise, we're not catch­ing them for the divi­sion and we have a lock on the wild­card, but if they don't at least win tomor­row I'm going to have to take an incred­i­ble amount of grief at work on Mon­day from my manager…
Started down, went up, still up.
Miata Top Tran­si­tions since 10/24/08: 409