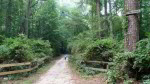 We went for a hike in the woods this morn­ing real early to beat the heat and to be home before Stage 1 of Le Tour started at 8:30AM.
This objec­tive was to retrieve the small cache, "Jump At Your Own Risk," we placed last week and move it to a dif­fer­ent spot in the woods. We also wanted to place cache #2. The sec­ond one is titled "Out West" because we placed them in the west­ern part of the woods and it is filled with some of the inex­pen­sive sou­venirs we brought back from our trip out west last April.
Yes­ter­day evening we needed some­thing to watch on TV so I poked around on Encore & Starz that came with our Tour de France dig­i­tal pack­age and found the third Pirate movie on one of the chan­nels. When I first attempted to watch this movie back at the end 2007 I could only stom­ach 19 min­utes of it. In the back of my mind I have always won­dered had I bailed too early on it because peo­ple said it didn't get good until Cap­tain Jack Spar­row made his entrance. Won­der no more. We came in some­where near the mid­dle of the movie and lasted about 5 min­utes. What a waste.
To make up for it this after­noon we watched the one and only TDPM on our copy of the DVD.
Started down, still down.
Miata Top Tran­si­tions since 10/24/08: 280