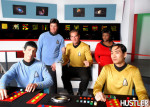 Per­haps hop­ing to cap­i­tal­ize on the pop­u­lar­ity of this summer's new Star Trek movie, Hus­tler Video has released a Triple X movie par­ody using the char­ac­ters from the orig­i­nal series. They even loosely base it on the episode Space Seed which intro­duced us to Ricardo Mon­tel­ban as Khan. So if you have the newly remas­tered TOS on DVD, a giant col­lec­tion of ST:TNG on VHS tapes, you should probavbly buy this, you know, just to com­plete your collection.
A review is here, but it is on a site that is def­i­nitely NSFW or homes with small chil­dren. At the bot­tom of the arti­cle is link where you can buy the 2-disc set (includ­ing a blooper reel?) for $25.
If you do fol­low the link (hey, I was just curi­ous) you will find that, what­ever your age, there is a XXX par­ody of a TV show that will ful­fill your ado­les­cent fan­tasy, from Gilligan's Island to Happy Days to the Office.
Started down, went up, still up.
Miata Top Tran­si­tions since 10/24/08: 251