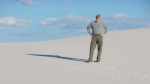 1398 miles from home.
We have reached our fur­thest point south today, White Sands National Mon­u­ment out­side of Alam­ogordo, NM.
It is also the low­est in ele­va­tion we have been in a while too, only 4,334 feet. We no longer get winded bend­ing over to tie our shoes.
I hope Scully and Mul­der aren't too dis­ap­pointed in us. On our way south, a stop in Roswell was sched­uled, but a late start due to a great break­fast and con­ge­nial hosts, plus the fact that it was over 90 miles east of our track, mak­ing for almost a 200 mile detour, caused us opt out of eat­ing at the UFO Diner and try­ing to find Mor­ris Fletcher for them.
Three for three on caches today.