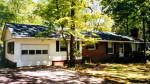 0 miles from home.
Easy flight back, we started to get some heavy tur­bu­lence some­where over mid­dle Amer­ica, so the pilot got clear­ance to fly at a higher alti­tude. When we got up there, there must have been a bet­ter tail­wind because we spent only 2:55 in the air as opposed to the sched­uled 3–1/2 hours.
We used that extra thirty-five min­utes to catch 3 quick caches on the way home, 2 in Fort Mill and another in Blythe­wood. There were still a cou­ple left on the GPSr to do, but we could only put off the inevitable so long, we came straight home from num­ber three.
Sorry for the Travel Bug fol­low the route link yes­ter­day, didn't real­ize you had to be a mem­ber and log in to see the map. So here is an image you can see — take a look.
The first things we did when we got here was for Donna to mow the weeds in both the front and back yard while I blew the piles of oak pollen clus­ters off the deck and the dri­ve­way. Then the Emperor got a much needed bath. The poor boy spend the last 2 weeks parked out­side the Char­lotte Air­port Hol­i­day Inn and there was a nice layer of baked on pine pollen on all his hor­i­zon­tal surfaces.
Tomor­row it is back to reality.
Started up, went down, still down.
Miata Top Tran­si­tions since 10/24/08: 176