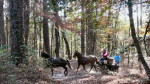 Not for us, but that dog sure as heck seems to be enjoy­ing him­self. On our walk in Hitch­cock Woods this after­noon, even though the park­ing areas were pretty full, we only saw a cou­ple walk­ers, a cou­ple on horse­back and this carriage.
I'm now up to date on Ter­mi­na­tor: The Sarah Con­nor Chron­i­cles, hav­ing watched Episodes 7, 8 & 9 this after­noon. Just like last year dur­ing Sea­son 1 it has taken a while to get back into it, to get the sus­pen­sion of real­ity up to the level required to for­give the unbe­liev­able turns the show takes at times, mak­ing a cou­ple of the last bunch real enjoy­able. They are start­ing to let us in on just how tricky the whole time travel thing is, seems like every time our intre­pid heroes think they have done some­thing to thwart the com­ing of judg­ment day,another thing hap­pens in par­al­lel that keeps the it on track.
Cameron, our hot­tie good Ter­mi­na­tor, in a few places dur­ing episode #8 is shown walk­ing away and she has this way of walk­ing by plac­ing one foot right in front of the other along a straight line. Very robotic look­ing gait, exactly like the walk used by mod­els walk­ing along the fash­ion run­ways. A com­ment from the pro­duc­ers on the human­ity of supermodels?
Started up, went down, back up, still up.
Miata Top Tran­si­tions since 10/24/08: 40