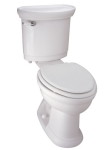 Not yet exactly, they are at the dealer and will be deliv­ered tomor­row. We are almost ready for them too. The shower walls were grouted today and the floor in the room is about half done. The walls are almost ready for wainscoting.
I have started my LOST action fig­ure col­lec­tion with not just one, but two fig­ures. I scoured ebay look­ing for fig­ures I could buy for no more than $15 bucks total (price & ship­ping.) My main objec­tive was Hugo (Hur­ley) Reyes. My first attempt fell 50¢ short. The next time I found one to bid on, it was after check­ing out a cou­ple other char­ac­ters, and some­how I man­aged to bid on a Shan­non fig­ure. Whiny Shan­non was always my least favorite "main" char­ac­ter on the show and if the acci­den­tal pur­chase had any redeem­ing value it was that I was the only bid­der (guess I'm not the only one who isn't a Shan­non fan), so she is going to cost me only a penny over the $8 ship­ping fee.
Luck was with me next time, as right after the Shan­non auc­tion closed I found a Hur­ley fig­ure that had a cou­ple days left on it. The next bid up was just a buck over my arbi­trary fif­teen buck limit, so I gave iit a shot, never fig­ur­ing it would hold up. It did.
Started down, went up, still up.
Miata Top Tran­si­tions since 01/01/08: 105