Next door to ASCO is a lit­tle place called Bobby's Clean Up that, while I'm not exactly sure what, has a lot to do with cars. Every now and again there is some­thing unusual parked over there. This week it is a 1959 Cadil­lac Sixty Two Con­vert­ible. It showed up on Tues­day and has been inside the shop since then. Today I noticed it parked out front as I came back from tak­ing Donna home.
I pulled in and poked my head inside the build­ing to ask if it was alright if I took a closer look at it. The fel­low inside said that it belonged to a local home builder and he had spent about $35k for it. It was there get­ting it all nicely detailed for this com­ing Sunday's down­town Aiken cruise-in.
The car is absolutely beau­ti­ful. Every panel is fault­less and the inte­rior is in nicer shape that mine. It has either been her­met­i­cally sealed in a may­on­naise jar on the porch of Funk & Wag­nalls or been recently fully restored.
I really wanted to get a pic­ture of it with the Miata parked behind it, so it looked like it was the big cars dinghy. It was high noon with the sun extremely bright and with the Caddy backed in under the awning, the con­trast was so intense tak­ing a good pic­ture was nearly impos­si­ble. Here is one that came out OK: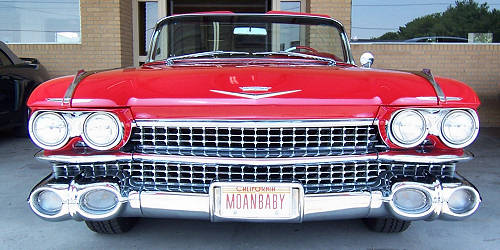 Started up, went down, back up, down again, still down.
Miata Top Tran­si­tions since 01/01/06: 234