Those of you who pay close atten­tion to this blog (and if you do, please look in the yel­low pages under Men­tal Health Pro­fes­sion­als for some help) know that Donna and I lived in New Orleans for a while in the mid­dle 80s. Once I left the Navy we choose New Orleans for a cou­ple of rea­sons, one of which was because she grew up there we would both be eli­gi­ble for in state tuition while we attended col­lege on the GI Bill. The other rea­son was that Donna's dad had recently passed away and her youngest brother was still a teenager, so we felt if we moved back in with mom and brother it might be a sta­bling influ­ence on young Scott.
When Donna's fam­ily moved to New Orleans in the 60's they bought a 4 bed­room, 1–1/2 bath split level home in the Lake­view sec­tion of town. It was near Lake Pon­cha­train, you couldn't actu­ally see the lake unless you could climb to the very top of the two mas­sive live oaks that shaded the house, but it was also only a short bus ride to downtown.
We stuck around long enough to see Scott grad­u­ate high school, but the econ­omy had turned sour and jobs grew scarce, so Donna and I moved up to NJ. Not long after that, Donna's younger sis­ter con­vinced mom and Scott to sell the house and move out to Seat­tle with her.
Below are a cou­ple of small images show­ing the north­ern sec­tion of New Orleans before and after Kat­rina. The before came from Google Maps and the lit­tle pointer shows where we lived. The sec­ond is from part of a larger high res­o­lu­tion satel­lite image from Dig­i­tal Globe. You can down­load both before and after images from their page by click­ing on the Hur­ri­cane Kat­rina Imagery link in the upper left. They are approx­i­mately 4000 x 4500 pix­els and are 3 or 4 megabytes in size.
Before: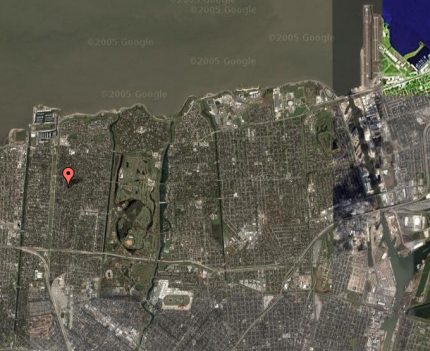 After: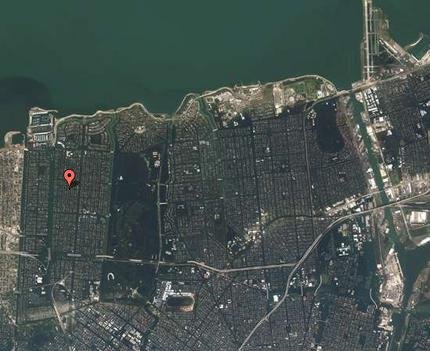 The dark green­ish blue shows the areas that are under­wa­ter. One of the lev­ees that broke, the 17th Street Canal one, is on the left of the image where the light turns to dark. The actual breach point is about par­al­lel with the marker and is less than a mile from the house. Most assuredly Donna's child­hood home is a total loss.
Started down, still down.
Miata Top Tran­si­tions since 01/01/05: 291