Free to a good home, one MGW Grip­per Shift Knob painted Gar­net Red. I'll even toss in the extra grip­per ring because it might be eas­ier to sur­gi­cally remove the cur­rent one, than try and pry it off. Pay­pal me $3 for postage and I'll pri­or­ity mail right to your home.
Vac­u­umed the car and then removed the week's accu­mu­lated dirty using some Quik Detailer because this after­noon was the MMC's show­ing at the Sno-Cap Drive-In's 41st anniversary.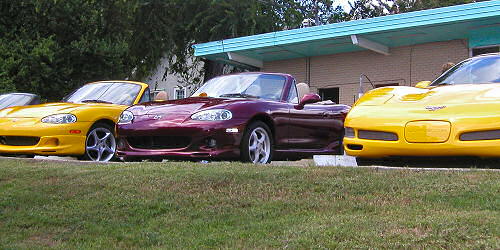 That and this week's photo meme pic­tures came from the party. Through the magic that is MT's editable Authored On data field, Wednes­day, Thurs­day & Friday's pic­tures were posted before the event.
I found some­one to make my Calvin & Hobbes sticker and he mailed it late last week. Not here yet. I hope that they didn't take a detour in time on their way here and were eaten by a T-rex.
Birth­day present update: Win­dow tint­ing is off the list, just doesn't make sense for me. Rear lip spoiler is fad­ing fast. Cur­rent front run­ner is a mild com­puter upgrade. This Dell was pur­chased in March of 2003 and while it 2.53Ghz proces­sor is plenty strong enough for what I use it for, I'm think­ing bump­ing the RAM from 512M to 1024M and get­ting a faster and big­ger hard drive might be a nice thing. Hey, after­all I spend more time in the seat in front of the PC than I do in the driver's seat of the Miata.
Started down, still down.
Miata Top Tran­si­tions since 01/01/05: 285