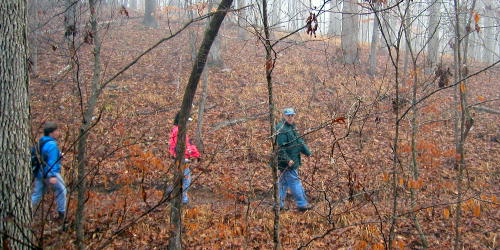 Went for another hike in the woods this week­end, same crew, Donna & I and Carol & John, but dif­fer­ent trail. I took this of the "gang" as they rounded a switch­back in front of me. Carol, who doesn't like to have her pic­ture taken, will be pleased that I snapped this at just the right moment, as she was mostly hid­den behind a tree.
Steven's Creek is not too far away from the Horn Creek Trail and is another of the trails Donna & I used to moun­tain bike back when we did the moun­tain bike thing. As you can see, the morn­ing started foggy and it pretty much stayed that way for the whole hike. This trail is an out and back 5–1/2 miles one way, but no one wanted an 11 mile hike just yet, so we decided to just hike for about an hour, then turn around and came back.
The trail starts out down hill for a while and after maybe 1/2 mile you come to a creek cross­ing with out a bridge. I was lead­ing at this point and as I stepped down to approach the cross­ing, I slipped and fell uncer­e­mo­ni­ously on my butt. Unhurt, except ego-wise, I got up and con­tin­ued on.
This prompted a story from the first time Donna & I biked this trail. We had had our moun­tain bikes for a few months and had been going to the pre­vi­ously men­tioned Horn Creek Trail, when a fel­low Bike Club mem­ber asked if we had ever been to Steven's Creek. We said no and he offered to take us there the next week­end. He was a much more expe­ri­ence off-road cyclists and while he said this trail was more "tech­ni­cal" than the one we had been rid­ing, we would def­i­nitely enjoy it. As we came down the hill approach­ing this stream cross­ing, our guide was telling us how to nav­i­gate the cross­ing. He told us the real trick was to be in the right gear for the climb out and not to worry about the actual cross­ing even though it was on rocks cov­ered in run­ning water. He went first and promptly wiped out on the easy approach (just as I did this morn­ing.) He got up quickly and dusted him­self off. No dam­age to the bike and all he got was a few small scrapes. Donna and I walked gin­gerly across car­ry­ing our bikes. On the way back we all dis­mounted and car­ried our bike across.
About two miles into our hike today the trail took a dif­fer­ent path from what I recalled from the past. There was a new bridge across a stream we used to have to ride through and the trail headed up hill and to the left of the orig­i­nal trail. This new direc­tion had been in use for quite some time as the trail was well worn. When we came to a tee inter­sec­tion with the orig­i­nal trail it seemed like a nice time to turn around as we had been out for 55 min­utes. I sug­gested that we turn right and fol­low the old trail back. The old sec­tion was get­ting quite over­grown, but we fol­lowed it along fine for about 1/2 mile, but it was slowly dis­ap­pear­ing. Finally we had to stop because there just wasn't any­thing to fol­low any­more. We hunted about a bit look­ing for where we might have missed a turn, but didn't find any­thing. We did the wise thing and back­tracked to where we came out, so we could fol­low the real trail back to the cars.