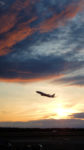 It takes 4 hours and 54 minutes to fly from Seattle to Atlanta, then you add the 3 hours clock time and you end up with a whopper of a trip back. Although we have had a blast out west, it is time to get back home.
No pictures from yesterday as it was filled with nothing but NW Washington weather, AKA liquid sunshine, so we spent most of the day indoors. There was breakfast followed by a snack, which was immediately followed by a big ol' family style meal with the 5 Morrisons (Scott, Donna's brother, Beth his wife and the kids James, Madilyn & Susan) who we were staying with, 3 other Morrisons (Donna's brother Jim, his wife Linda and their daughter Jennifer) from California, a family of three that centered around Beth's sister (Meghan, her husband Terry and their son Eli) and last but not least, Beth's parents Les & Joanie. Dessert was a birthday brownie for the newly 4-year old Susan. An afternoon of building Legos with the grand finale of going to bed early.
Today the 8 Morrisons along with Donna and I rode a couple of Washington State Ferries including the one from Winslow (Bainbridge Island) into downtown Seattle with fabulous views of the skyline. I didn't take any pictures because I've become jaded, this has been our tradition to take this ferry on the way to the airport the last bunch of times while out here. See photos here and here from a couple of previous visits.